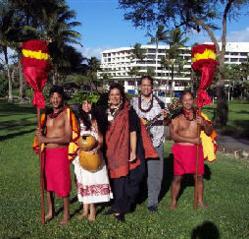 Honolulu, Hawaii (PRWEB) February 07, 2013
Maui'd Forever, Hawaii's premiere wedding planning and coordination company is dedicated to be your most effective and cost conscience way to provide for all of ones Hawaii wedding, engagement & travel needs. After getting many requests for an unusual and romantic engagement plan they decided to offer several packages for this unique service.
They occasionally get more unusual requests. The last was to create an engagement scenario for a prospective groom to his prospective fiance while visiting Hawaii. They came up with the following options that could come with or without photo and video:
Inexpensive: romantic gourmet dinner on the beach for 2 with tiki torches and personal chef service can be done for $500. Add limo service $125 per hour not included.
Moderate: same as above but add real Hawaiian entertainers. They would include a Tahitian drummer, guitar or ukulele player, fire dancer and hula dancer that would entertain for 1 hour which would bring the total to $1295.
Expensive: same as above but they get picked up by a boat (large catamaran) and taken to the location a 2 hour mini adventure. After the dinner they get taken back to where they are staying by private limo which brings the total to $2895.
They can do these packages on Oahu, Maui, Kauai and the Big Island of Hawaii.