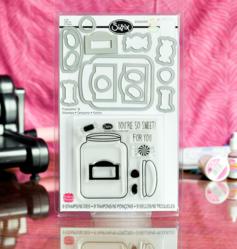 "Anyone can indulge in many different combinations of creativity, while capturing life's special moments in a happy heartfelt way," said Stephanie Barnard.
Lake Forest, Calif. (PRWEB) February 06, 2013
Sizzix®, the pioneer and market leader in die cutting machines and die cutting accessories for today's crafting market, is proud to announce the expansion of the Stephanie Barnard collection of die cutting, stamping and embossing products.
Stephanie's newest assortment of exciting products was designed to enhance cardmaking, scrapbooking and papercrafting with many designs that coordinate with each other for added creativity. The release includes more fabulous Framelits™ to help create exquisitely cropped photos, precise windows for a card and 3-D layering embellishments. In addition, selected Framelits are accompanied with a matching set of stylish clear stamps (made in the USA) for perfect registration. Not to be outdone, moveable magnetic Movers & Shapers™ L Dies help create the innovative Flip-its format for fun cardmaking and a set of Textured Impressions™ Embossing Folders Set offers a variety of embossing applications.
"With my latest collection, I've carefully chosen the kinds of designs that crafters love," said Barnard. "Anyone can indulge in many different combinations of creativity, while capturing life's special moments in a happy heartfelt way."
About Stephanie Barnard
If it's possible to live, breathe, eat and sleep scrapbooking and stamping, Stephanie Barnard is giving it her best shot. Besides serving as the Sizzix spokesperson, she also offers the company's research and development team invaluable insights into new products from the crafter's perspective. Stephanie is also a licensed designer and the inspiration behind her own line of creative products for Sizzix. Stephanie is the owner and designer of a clear stamp company, The Stamps of Life. Their stamps are proudly manufactured in the USA. In addition, Stephanie is a highly sought-after teacher and demonstrator and has appeared on numerous television shows with her work included in many books, magazines and websites.
About Sizzix
Launched in 2001, Sizzix is a division of Ellison Educational Equipment Inc., the market pioneer and leader of die cutting machines and accessories. Through its portfolio of die cutting machines and die cutting products, Sizzix leverages Ellison's 35 years of proven manufacturing and technology heritage to empower creativity among its customer base with new and innovative products. Sizzix is a recognized global brand that can be found in over 100 countries and in major and specialty retailers. For more information on Sizzix and its line of craft-inspiring products, please visit Sizzix.com.
# # #