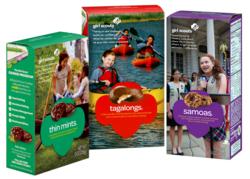 Sierra T. Girl Scouts of California's Central Coast

hello I am sierra and my favorite cookie selling tip is to never give up and challenge yourself!:)
Ventura, CA (PRWEB) February 08, 2013
Girl Scouts of California's Central Coast today announced the dates of the 2013 Cookie Booth Sale for February 22-March 17 to be held outside supporting retailers throughout the central coast. The same great premium favorites: Thin Mints, Samoas, Tagalongs, Do-Si-Dos, Trefoils, and lemon Savannah Smiles will be available and sport new packaging featuring the five skills girls learn when participating in the program. Cookie booth locations can be found via the [Cookie Locator beginning February 22.
"Every time someone buys a box of Girl Scout Cookies, they become a part of the Girl Scout Promise to make the world a better place," said Sherry Sybesma, CEO, Girl Scouts of California's Central Coast. "Every box of cookies represents an opportunity for a girl to learn and practice skills that will help her become a leader in her own life and the wider world."
As part of their experience in the Girl Scout Cookie Sale, girls earn money for troop activities and official Girl Scout awards including cookie and financial literacy badges and the annual Cookie Activity Pin. Much of what girls earn during the Cookie Sale actually goes back into communities in the way of girls conducting service projects and participating in local activities.
After covering cookie baker costs, revenue earned from cookie activities also stays with the local Girl Scout council to supply essential services to troops, groups, and individual girls, such as providing program resources and communication support, training adult volunteers, and conducting events.
In 2012, the council reported selling 1.09 million boxes surpassing the dream of reaching the million box mark. Supporters also helped girls by donating over 30,000 boxes of cookies to military troops serving overseas through the council's program with Operation Gratitude -- an opportunity available again this year at any Girl Scout Cookie Booth. The council also offers an opportunity to donate cookies to military troops virtually where girls can receive credit: http://www.girlscoutsccc.org/donate.
"The cookies disappear quickly, continued Sybesma, but the Promise Girl Scout Cookies represent lives on in what girls learn." Statistics show the Girl Scout Cookie Program works. According to a survey from the Girl Scout Research Institute, 85 percent of Girl Scout "cookie entrepreneurs" learn money management by developing budgets, taking cookie orders, and handling customers' money. Eighty-three percent build business ethics; 80 percent learn goal setting; 77 percent improve decision making; and 75 percent develop people skills.
Girl Scouts of California's Central Coast will join councils across the nation in celebrating the history of girls' participation in this great American tradition when Girl Scouts of the USA announces February 8, as National Cookie Day.
To locate cookies, supporters can contact the council at 800-822-2427, visit the Cookie Locator beginning February 22, or download the Girl Scout Cookie App from the council website.
About GSCCC
Girl Scouts of California's Central Coast serves over 10,000 girls across six counties and is committed to making the Girl Scout Leadership Experience available to girls in ways that impact their lives both in the moment and into the future. Girls participate in troops, individual projects, council events, day camps and more. A variety of leadership, outdoor skills, and Science, Technology, Engineering and Math (STEM) based programs and events provide girls with opportunities to learn and explore in fun and informative ways. To join or volunteer in Santa Cruz, San Benito, Monterey, San Luis Obispo, Santa Barbara or Ventura county, visit: http://www.girlscoutsccc.org. To donate, visit: http://www.girls2lead.org.