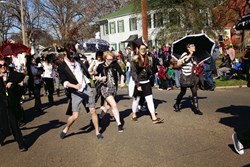 Celebrating 18 years in 2013, the Krewe of Highland parade is one of Louisiana's largest neighborhood parades.
Shreveport, LA (PRWEB) February 06, 2013
Get ready to catch grilled hot dogs, SPAM sandwiches and other unusual throws at the 2013 Krewe of Highland parade, 2 p.m., Sunday, Feb. 10 in Shreveport's historic Highland neighborhood. Celebrating 18 years in 2013, the Krewe of Highland parade is one of Louisiana's largest neighborhood parades. The parade is expected to feature more than 100 Mardi Gras floats, as well as antique vehicles, marching bands and more.
"When people talk about the Highland Parade, what they love about it is that it's a daytime parade, and that it's a family parade," said David McCarty, King of Highland XVIII.
Leading the parade procession will be Blanc et Noir Marching Society, a traditional marching group started by Mardi Gras historian and traditionalist, teacher, and artist Robert Trudeau. Festively attired and accompanied by a New Orleans-style jazz band, members of Blanc et Noir Marching Society dance, walk and "second line" the entire four-mile parade route.
The parade officially starts northbound on Gilbert Drive just north of Gregg Street (near Johnny's Pizza at 3915 Gilbert Drive in Shreveport). The parade will head northbound on Gilbert Drive to Gladstone Boulevard, where it will move west and then resume the parade route from previous years. From Gladstone Boulevard, the parade will head north on Creswell Avenue to Herndon Street, turn east on Herndon Street, south on Highland Avenue, east on Olive Street, south on Centenary Boulevard and finally west on Gladstone Boulevard. The parade will end as it reaches Gilbert Street.
Prior to the parade, the Columbia Park Carnivale will start at 10 a.m. and end at 2 p.m. just as the parade begins. The event will feature live music and vendors at Columbia Park. Immediately following the parade, Marilynn's Place restaurant, located near the end of the parade route at 4041 Fern Avenue in Shreveport, will host its 2nd Annual Mardi Gras Bash, featuring Cajun and Creole cuisine, beer, and live music from Dirtfoot, The Peekers and Front Cover. There will be clowns and face painting for children.
For a complete listing of all Mardi Gras events scheduled to take place in Shreveport-Bossier, including information on parade routes, visit http://www.shreveportbossierfunguide.com and click "Mardi Gras in the Ark-La-Tex." More information on things to see and do in Shreveport-Bossier can be found on-line at http://www.shreveport-bossier.org or by calling (888) 45-VISIT.
NOTE TO MEDIA: High-quality, print-resolution images of Mardi Gras festivities in Shreveport-Bossier may be requested by contacting Chris Jay at cjay(at)sbctb(dot)org or (318) 429-0658. Multimedia elements such as Youtube videos are also available.