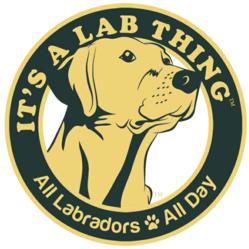 "What has amazed me is the incredible global response I have had after my photographs were posted on the site."
-Andy Biggar Photography
Atlanta, GA (PRWEB) February 11, 2013
It's a Lab Thing™ has grown it's Facebook fan base to almost 50,000 since July 2012, keeping pace with the continuing reign of the Labrador Retriever as America's top dog. It's a Lab Thing™ doesn't just boast a lot of loyal Facebook fans – it has a high rate of engagement as well. Posting funny, touching, and beautiful images of Labradors several times a day, It's a Lab Thing™ fans share their content at a very high rate. 34,000 people a day actually see the posts from It's a Lab Thing™, with 6,000 or more liking the content. Antonio Rodriguez, one of the founders for It's a Lab Thing™, receives up to 75 pictures a day from fans wanting to show off their Labrador pride-and-joys. While their Facebook page receives the majority of engagement,It's a Lab Thing's™ blog is experiencing a fast clip of web traffic at 22,000 views a month.
The incredible ascension in both the social media realm and website stats for It's a Lab Thing™ isn't surprising. For the twenty-third year in a row, the American Kennel Club™ (AKC) crowns the gregarious Labrador Retriever with the honorable distinction as the breed of choice for American families. The breed's outgoing, friendly personality, remarkable intelligence, and unwavering loyalty make it not only a popular family pet, but a top choice for service animals as well. Labradors are routinely used for assisting the disabled, law enforcement, and in rescue organizations because of these qualities.
The Internet's Top Destination for Lab Lovers of All Ages
It's a Lab Thing™ has quickly grown into a vibrant online community for anyone and everyone who shares a love for these amazing dogs.
While on a trip to visit friends in South Carolina, founders Antonio and Karen Rodriguez fell immediately in love with the goofy resident Labrador named Garth. Having caught "Lab fever", Antonio, a web designer by profession, and Karen adopted their first Lab, Brody. After becoming Lab parents, Antonio and Karen got involved with a regional rescue called Labrador Friends of the South. From their involvement with LFS, It's a Lab Thing™ was born in the summer of 2012 and continues to grow at warp speed.
For more information on It's a Lab Thing™, contact Antonio Rodriguez at antonio(at)itsalabthing(dot)com
Contact: Antonio Rodriguez
It's a Lab Thing™
antonio(at)itsalabthing(dot)com
http://www.itsalabthing.com
Facebook.com/itsalabthing