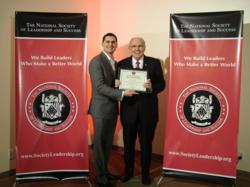 Hoboken, NJ and Irvine, CA (PRWEB) February 07, 2013
The National Society of Leadership and Success announced today that Rudy Giuliani, renowned 107th Mayor of New York City, was awarded Honorary Membership on February 5, 2012.
Honorary Membership is one of the highest honors that The National Society of Leadership and Success can give to a person outside of the organization whose accomplishments have been truly outstanding, have mirrored the values of the Society and are of national significance. The Society bestowed this Honorary Membership to Mr. Giuliani.
Under his leadership (1993-2001), Giuliani reduced the overall crime and murder rate in New York City, creating the safest large city in America. Additionally, he swiftly marshaled his leadership skills to pull his city, and perhaps the entire nation, through the crisis of the 9-11 terrorist attacks. As a result of his accomplishments, he was named "Person of the Year" by Time magazine, received an honorary knighthood by the Queen of England and was awarded the "Ronald Reagan Presidential Freedom Award." He has been characterized as one of the most effective chief executives in modern American history.
Limited by two terms as Mayor, Giuliani subsequently formed Giuliani Partners. Recognized by Consulting magazine as the "Consultant of the Year," his organization quickly established itself as a leader in strategic consulting, emergency preparedness and leadership. Giuliani is also a partner in the law firm Bracewell & Giuliani, an international law firm with more than 400 lawyers.
About The National Society of Leadership and Success
The National Society of Leadership and Success was founded in 2001 to build leaders who make a better world. As of today, The National Society of Leadership and Success provides these stellar attributes to more than 239,000 members nationwide and to more than 320 active college chapters who embody this mission, and serves as a powerful force of good in the greater community by encouraging and organizing action to better the world. For more information, please visit http://www.societyleadership.org.
###