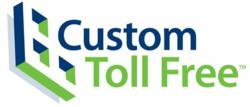 "It's important that we reach out to our customers on their terms to make our products more accessible." -Christy Green, VP of Sales and Marketing. Custom Toll Free.
Seattle, WA (PRWEB) February 07, 2013
Custom Toll Free is proud to announce the recent release of their new mobile site. Custom Toll Free has been in the vanity number and communications industry over a decade and is still dedicated to providing superb customer service to all of its outstanding customers, both existing and potential, and firmly believes in customer retention.
One of the ways Custom Toll Free shows its dedication to customers and the vanity number industry is by providing users with a new mobile version of their website. This new mobile site promises to assist users in pinpointing over six million available toll free vanity numbers even easier and on-the-go from any mobile device.
With even more flexible and convenient access to the Custom Toll Free website, tools, and features, users will never miss out on the opportunity to lock down a high quality toll free vanity number.
For additional information on Custom Toll Free or toll free vanity numbers, or even queries related to the new mobile site, please don't hesitate to contact Custom Toll Free, by filling out their contact request information at: http://www.customtollfree.com/contact-us-for-more-information.html
Custom Toll Free provides excellent service in the vanity toll free number and communications industry for all customers and guarantees meeting customer needs.