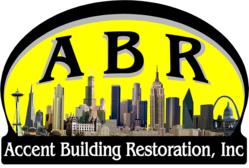 We are very excited about social media and have been gearing up to do more of it every year
Phoenix, AZ (PRWEB) February 11, 2013
Accent Building Restoration (ABR), the self-storage industry's premier provider of facility redesign and restoration, has announced its Facebook "Like Us" contest. Presented in conjunction with "Mini-Storage Messenger" magazine, each person who logs onto Facebook and "likes" ABR's fan page will be entered into a drawing for a $100 American Express Gift Card.
"We are very excited about social media and have been gearing up to do more of it every year," says Burt Abreu, Director of Marketing & Design at ABR. "It hasn't always been easy as a business—or as an industry—to embrace social media. In the end, we've started to look at it as the digital equivalent of standing around the water cooler at work where casual conversations start up and people recommend a favorite restaurant or store."
As the recent recipient of the 2012 Best of Business Award for Best Maintenance Product & Services, ABR understands the value of being recognized by its customers. "This personal recommendation is worth its weight in gold," says Abreu, "and it will only increase in value as a new generation relies on online media as their main source of information and socializing."
The contest is open to all Facebook fans who "Like" The Accent Building Restoration, Inc., fan page between February 6, 2013, and March 6th, with the winner being announced on Monday, March 11th. The winner will also be featured in an announcement in Mini-Storage Messenger's weekly online newsletter, Messenger Weekly.
For more information about the Accent Building Restoration Facebook "Like Us" Contest, please e-mail pbehrens(at)minico(dot)com.
About Accent Building Restoration
Established in 1994, Accent Building Restoration (ABR) offers a full range of property and building services including cosmetic construction, painting, maintenance, elastomeric waterproofing, graffiti removal and abatement, repair, wall and floor coverings, and coatings. Installs, repairs and refinishes gates, bollards, overhead doors and more. For more information, please visit http://www.abrusa.com.
About Mini-Storage Messenger
The "Mini-Storage Messenger" (MSM) is the leading monthly trade magazine covering the global self-storage industry. MiniCo Insurance Agency, LLC, publishes "Mini-Storage Messenger" in both print and digital formats. Other publications include the "Self-Storage Almanac," "Self-Storage Canada," "Self-Storage Now!," and the "Self-Storage Buyer's Guide." For more information, please visit http://www.ministoragemessenger.com.