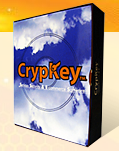 (PRWEB) February 16, 2013
CrypKey, industry leader in software licensing and copy protection and web-based solutions, is now offering the CrypKey SDK Enterprise with License File Expander for companies that have to manage complex licensing rules. The CrypKey SDK Enterprise is set to include all the features of their standard SDK version, unlimited "floating network seats," and the CrypKey License Expander. This comes as good news to companies around the world seeking effective and affordable solutions to best manage their complex licensing rules and more.
Particularly noteworthy and significant is the License Expander feature included with the CrypKey SDK Enterprise protection software. The CrypKey License File Expander allows the application an unlimited set of license management rules by utilizing a unique digitally signed ASCII text file to transmit licensing information to the application. The License Expander is designed to be fundamentally easy to use. In addition, it is simple to view as a readable file. Also, it is designed to be easy for customers to see the constraints of a license without the ability to change them.
CrypKey is dedicated to providing the most innovative software copy protection and license management software solutions on the market. For over two decades, CrypKey has grown to be the most trusted source of solutions designed to protect the intellectual property and vital data of companies and organizations of all sizes. The CrypKey SDK Enterprise with License File Expander is set to greatly benefit companies that have to manage complex licensing rules and more.
About CrypKey
Headquartered in Calgary, Alberta, Canada and founded in 1992, CrypKey (Canada) Inc. is the world leader in software copy protection, license management and web-based automated solutions. They have serviced clients in over 60 countries, including some of the largest companies in the world, like Caterpillar, Honeywell, Nokia, Weyerhaeuser, and thousands more. They have led the software development community in developing intellectual property protection technology innovations. They currently service over 3,000 customers worldwide and growing. They are headed by their President, CEO, and Product Visionary, James (Jim) McCartney. They are focused on excellence in customer service and support. For more information, visit http://www.crypkey.com or follow them on Facebook or Twitter.