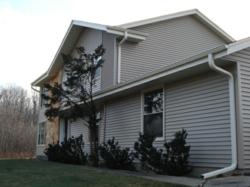 "With over 50 years experience in the business, a company picks up a thing or two on how to build and foster long client-provider relationships."
Milwaukee, Wisconsin (PRWEB) February 13, 2013
Chuck Jahnke doesn't have to say much about the credibility of his company A Custom To, LLC – that's because his customers have beat him to the punch. The Milwaukee, Wisconsin based exterior services company has taken the standard of service in the area to a whole new level. Not only does A Custom To, LLC offer a wide array of services ranging from Milwaukee Roofing and siding to repairs and attic insulation, but they do so with only the highest quality results. A Custom To, LLC pride themselves on being fair, affordable and are willing to work with any budget. It's exactly this sort of service superiority that has led them to earn an A+ rating with the BBB as well as other awards and recognition for great customer service.
In today's world of easily accessible online research, customer reviews go a long way. Even the best marketing and advertising in the world can't save a company's reputation if their customers are dissatisfied. A quick search for A Custom To, LLC, on most search engines, will produce results allowing you to see reviews that show their customers are indeed happy. In fact, the company recently won an award for their super service. Of course, that's really no surprise to Chuck and his esteemed group of contractors. "With over 50 years of experience in the business, a company picks up a thing or two on how to build and foster long client-provider relationships," says Chuck.
The good news for local homeowners is that top quality service doesn't always mean outrageous prices. A Custom To, LLC ensures Southeastern Wisconsin residents don't have to deal with unreasonable rates, extra fees and gimmicks. From window and door installs to gutter and vent retrofitting, they offer a 1 year guarantee on all repair work as well as free estimates and inspections. The Milwaukee Siding contractors at A Custom To, LLC work tirelessly to get the job done in a timely manner while also exceeding client expectations. Best of all, when the work is done, the team leaves the site spotless – with no litter or debris to clean up. The only evidence left is a job well done.
Knowing the benefits of working with A Custom To, LLC, many consumers say it would be useless to search for better service elsewhere. However, this Milwaukee exterior services company encourages comparison. They want consumers to take the time to review all of the comments and feedback online because they know this only strengthens their credibility. After all, the satisfaction of customers always speaks louder than words.