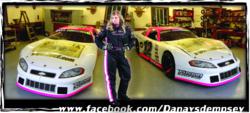 Olympia, WA (PRWEB) February 08, 2013
Washington's teenage racing sensation Jessica Dana has thrown down a challenge to Patrick Dempsey to raise money for Seattle Children's Hospital, Boys and Girls Club of Thurston County, and possibly a Tully's sponsorship for 2014. If Dempsey accepts the challenge, the race would take place at Evergreen Speedway Friday night on the 5/8 mile during the Summer Showdown, the biggest race in the region. The race would be 15 laps and the looser will donate money or equivalent value to the winners selected charities. JDR will provide Dempsey a 600 hp Hamke Super Late Model Chevy Impala SS to go head to head with Dana in nearly identical cars with speeds approaching 145 mph.
Completing just her second season of racing in Washington in the NASCAR Super Late Model Series Jessica is hopeful other companies will join the challenge if Dempsey agrees, to raise even more money for charity. "I want to help children and promote my sport" said Jessica Dana, 2013. OBee Credit Union, Putnam & Leib Law Office, Heavy Equipment Supply Source, Knight Fire Protection, Budsberg Law Group, 94.5 Roxy, and Fusion Graphics will join Jessica in 2013, to raise money for children by supporting Jessica Dana Racing, LLC.
To Support Jessica Dana and the Charity Race, please visit and "Like" the event on Facebook, http://www.facebook.com/Danavsdempsey.
Doug Hobbs, President/CEO of Evergreen Speedway said "I think that JDR does an amazing job of marketing and we are so proud of Jessica and the Dana Team for their on track presence and off track drive that not only promotes Jessica, it also brings great interest to our sport. Jessica will be a force at Evergreen Speedway this season in her hunt for the Washington State NASCAR Rookie of the Year while driving against some of the best Super Late Model drivers in the Western States. We expect to see Jessica's #12 make a few podium finishes in the very near future. We certainly Hope Patrick Dempsey accepts Jessica's Challenge! Evergreen Speedway worked with over 30 Charities and Non Profit fundraising events last season, and I think this Challenge could possibly top them all! We are very proud the JDR Team
will be competing at Evergreen Speedway in 2013."
"I had so much fun at the track and with the people at Evergreen," said Jessica, after competing in the 2012 Summer Showdown June 28 & 29. "I truly hope Tully's and Mr. Dempsey see value in my challenge, I would like to play a role in building the Tully's brand and promoting my sport while raising money to help children in Washington."
Jessica's father, Troy Dana said "We will have two nearly identical cars with pink roofs ready if Mr. Dempsey agrees to the race. Tully's is an iconic Northwest brand with limitless upside potential, Jessica could have similar qualities," (2013).
Lee Wojnar, VP of Marketing from O Bee Credit Union states "Jessica Dana and her race team are showing moxie to challenge the American actor, Patrick Dempsey ("McDreamy"), best known for his role as neurosurgeon on Grey's Anatomy. If the Dempsey Racing team accepts they would be raising needed funds for the Seattle Children's Hospital and Boys and Girls Club of Thurston County while bringing back "Hollwood Fame" to the South Sound just as Paul Newman, Clint Eastwood, Dustin Hoffman and Jack Nicholson did for the Olympia Brewery. O Bee Credit Union (the Olympia Brewery Credit Union) is a proud sponsor of the Jessica Dana Race Team and all those who pursue their dreams to do great things"
Special thanks to Citris Designs & Pardiman Productions for all their support.
Web
Visit http://www.JessicaDanaRacing.com, follow @JessDanaRacing on Twitter & like "Jessica Dana Racing" on Facebook.
About Jessica Dana Racing
Washington State's very own teenage Racing Sensation Jessica Dana, nationally known after defeating both four-time NASCAR champion Jeff Gordon and extreme motorsports star Travis Pastrana in charity karting events during a two-month period in 2010. In her rookie season racing late-model stock cars Jessica recorded five top-5 finishes, was nationally chosen to attend NASCAR & Rev racing's 2012 Combine, and is prepared to start another historic run in 2013.
Jessica Dana Racing Sponsorship & Media Contact
Kayla Waldron, Citris Designs, kayla(at)citrisdesigns.com
Cory Lopardi , Pardiman Productions, corey(at)pardimanproductions.com