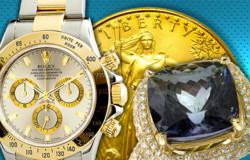 Tehachapi, CA (PRWEB) February 06, 2013
GovernmentAuction's February 9, 2013 auction will feature a large collection of gold coins, luxury watches, high fashion hand bags, jewelry and antiques in this week's auction event on the online auction site Proxibid.com. Bidding in this one day event will start at only $2 on most lots.
Offered for auction in the coin category are two highly sought after pieces for collectors and investors. Lot 668216 is a 1908 $20 U.S Saint Gaudens Gold Coin. Designed by Augustus Saint-Gaudens and commissioned by President Theodore Roosevelt, the U.S. $20 gold piece coins are considered by many to be the most awe-inspiring coin ever produced by the U.S. Mint. Roosevelt asked his famous sculptor friend to create a coin reminiscent of ancient Greece. The second featured coin in this auction is the 1861 $20 U.S. Liberty Head Gold Coin. The "Double Eagle" as the coin is also referred to was minted from 1850 to 1907 during the height of the California gold rush. Of all the gold coins minted before 1907, the Double Eagle had the highest gold content, almost one full ounce of pure gold. Designed by James B. Longacre the coin weighs 33.43 grams and is composed of 90% gold and 10% copper.
Just in time for Valentines the auction house is offering a large selection of luxury goods for liquidation. A piece sure to be popular with the ladies is a 14 kt Gold 22.30CT Ruby and Diamond Ring. A large 21.56 CT oval shaped ruby is surrounded by 16 round genuine diamonds and 16 round rubies. The main stone is raspberry red with a quality set at "Very Good".
Another hot lot for the ladies is a Louis Vuitton Handbag. The style is classified as "Speedy Golden Arrow Handbag". The bag is two tone black and chocolate with the classical LV logo in gold monogrammed throughout and features secure top handle straps. The purse is one of three Louis Vuitton handbags up for auction.
Rolex a name synonymous with precision and luxury is well represented in this auction with seven of the timepieces to be auctioned off. A specimen already garnering a number of bids is a Two Tone Rolex Daytona Watch. This Oyster Perpetual Datejust watch is crafted in lavish 18k in gold and stainless steel and is composed of silver sunray finish dial. The box and all original papers are included.
For antique collectors or slot machine hobbyist a fully restored Rolatop Watling Slot Machine. The Watling Manufacturing Company released 166 different versions of their famous slots. The slot features the horn of plenty with a cornucopia of cherries, grapes and oranges. The Rol-A-Top logo is prominently featured on the front amid striking colors of the red and gold slot.
Additional auction highlights include a Rolex Oyster Perpetual Women's Watch, Louis Vuitton Minaudier Tresor Perles Handbag, 6.40CT Princess Cut Diamond Gemstone, 1,315CT Emerald Gemstone, and more
To view this auction please click the link below
Rare Gold Coins, Slots and Luxury Watches - Saturday, Feb 9, 2013 | 6:30 AM Pacific
https://www.proxibid.com/asp/catalog.asp?aid=62203
For additional information on any lot in the sale, call Debbie on 661-823-1543 or e-mail info(at)governmentauction(dot)com.
About Government Auction
Government Auction was founded as a general resource to buying assets such as jewelry , gemstones, memorabilia, collectibles, art, prints, antiques, and vehicles throughout the United States. Most people don't realize there are hundreds of thousands of assets and valuables that are seized everyday and made available through various resources. Many of these confiscated assets are passed on to us for immediate liquidation. Some examples of how we acquire requisitioned objects are from bankruptcies, IRS, estate sales, trusts, and more.
Government Auction is the largest company of its kind and the only one in the United States that works closely with these agencies to acquire literally thousands of assets and confiscated goods, such as Ruby Gemstones, Sapphire Rings, and Men's President Rolex Watches, Mercedes Benz, and Gold Coins. In most cases we acquire these treasures at a fraction of their actual retail value. Once acquired these items are liquidated through the auction site. Clients are made up of just the everyday person who wants to buy a Diamond Bracelet, Pearl Strand Necklace, Sterling Silver Pink Sapphire Earrings, Oval Cut Emerald Gemstone Parcel, Remington Bronze Reissue at an unbeatable price.
All assets that we offer are normally at a 30% - 60% savings to the client. What this means is consumers are making a good investment immediately. By purchasing assets cheaply people can make a sizeable profit if they decide to resell it later on.
Government Auction is one of the most reputable jewelry and gem clearinghouse company in the U.S., with over 20 years of experience.