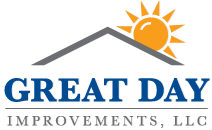 Many people don't realize we offer general contracting services and everything we do is backed by the same quality and commitment that has made us a leader in the patio enclosure business."
Macedonia, Ohio, (PRWEB) February 11, 2013
Great Day Improvements, LLC, a nationally recognized residential/commercial remodeler and manufacturer, perhaps best known for its superior quality Patio Enclosures™ sunroom brand, has launched its newest website, http://www.greatdayimprovements.com. This site makes it easy for customers to explore the extensive array of home improvement services offered by Great Day Improvements, whether the goal is to expand or improve their existing home or commercial space.
"When most people think of Great Day Improvements, they think of Patio Enclosures™, but we are so much more" said Bill Goddard, VP of Sales. "As a company, we are experiencing significant growth and have recently acquired the Stanek Window brand. We wanted to build a website that showcased all of our manufactured brands and home improvement services under one roof, said Goddard." "Many people don't realize we specialize in so many different categories including sunrooms, solariums, room additions, replacement windows, roofing, siding, basement finishing, decks, patios, hardscapes and much more."
The new website organizes Great Day Improvements' products and services into seven major categories: Home Expansion, Windows and Doors, Wall Finishing Systems, Backyard Solutions, Green Home Solutions, Hardscape Solutions and Commercial Solutions. The site also features the three brands Great Day Improvements exclusively manufactures: Patio Enclosures™, Stanek Windows, and SoftWall Finishing Systems™.
Steve White, Great Day Improvements Managing Director said, "It's helpful for customers to have a centralized website that covers all of our tailored offerings. Our site is convenient, informative and easy to use. At Great Day Improvements, we are truly improving everything we touch."
The new website was designed by Evolve Creative Group who was also responsible for designing the award winning http://www.patioenclosures.com. The company developed a custom photo gallery, which makes it easy for customers to browse, share and save the photos they like most. A Home Improvement Resource Center was also created to help educate consumers with helpful how-to videos and articles. "We wanted to create a website that was informative for homeowners and commercial clients alike," said Todd Bertsch, President of Evolve Creative Group. "We made it intuitive, easy to navigate and full of information so that a customer can make an educated decision about their home improvement project. We believe this site will elevate the name recognition for Great Day Improvements, while better serving customers."
About Great Day Improvements, LLC
Great Day Improvements, LLC is a residential/commercial remodeler and manufacturer that offers a portfolio of tailored home improvement solutions including: Patio Enclosures™ brand screen rooms, sunrooms, solariums, room additions, design and build construction and EasyRoom™ DIY sunroom kits; Stanek Windows brand replacement vinyl windows, patio doors, siding and roofing; SoftWall Finishing Systems™ acoustically-efficient interior panelized wall finishing system for basements, home theaters, offices, media rooms and bedrooms; Backyard solutions including awnings, patio covers, decks, railing and fencing; Green Home solutions including insulation, radiant barriers, solar shades, window film; Hardscape solutions including decorative concrete, stamped concrete, patio pavers, concrete overlays, driveway /sidewalk installation and Commercial solutions. Great Day Improvements operates across 28 states, is accredited by the Better Business Bureau and has serviced over 250,000 customers nationwide. For additional information, visit http://www.greatdayimprovements.com
About Evolve Creative Group
Evolve Creative Group provides customized award-winning web solutions to the Akron, Canton and Cleveland, Ohio areas. Led by founder Todd Bertsch, the company has won multiple awards for its creative ingenuity and compelling designs. With a team of passionate web designers and developers, Evolve offers a full-suite of creative services including web design and development, mobile web design, SEO, PPC, video production, website usability, email marketing and social media marketing. For more details, visit http://www.evolvecreativegroup.com.