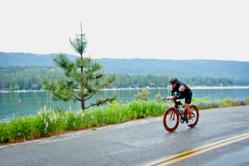 Bass Lake really is a great location for a race. Newcomers to the sport have loved coming here while triathlon veterans known the history here and have enjoyed coming back
Bass Lake, CA (PRWEB) February 06, 2013
Preparations are under way for the third annual Bass Lake Classic Triathlon, and registrations are currently being accepted.
Bass Lake, located in the Sierra National Forest about 20 minutes south of Yosemite National Park, has a long history in the sport of triathlon. The lake served as the site for the first ever national championships in the sport in 1983 and again in 1984. The race continued in to the 1990's until the producer retired. It was revived in 2011 by the Yosemite Sierra Visitors Bureau and Tucson Racing.
"Bass Lake really is a great location for a race. Newcomers to the sport have loved coming here while triathlon veterans known the history here and have enjoyed coming back," said Jonathan Grinder, owner of Tucson Racing.
About 300 athletes took part in the revived competition in 2011, and 500 raced in 2012. Race organizers are expecting a sell out this year.
"We really do think we'll hit our sell-out mark of 750 entrants," said Rhonda Salisbury with the Yosemite Sierra Visitors Bureau.
While the venue could handle more, Salisbury said they're looking for event quality over quantity of entrants.
"We want to keep the number of competitors at a level where it's not too crowded so everyone has a good time," she said.
In addition to the race, the popular BBQ and live music Michelob Ultra Awards Party will return again this year.
"The athletes really had fun at the party, as did the community who came out to support the racers," said Grinder.
It's that community support, combined with the scenic beauty of the venue itself, that has helped give the Bass Lake Classic Triathlon the quick resurgence that it has enjoyed.
"The Bass Lake Classic Triathlon is the best race around. Perfect for beginners or seasoned athlete," said one competitor on the race's Facebook page.
The race takes place Saturday, June 1. For more information or for registration, visit http://www.BassLakeTri.com.