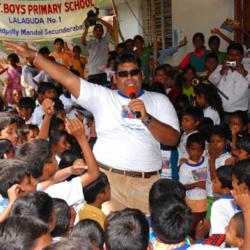 'I am an obese gay man living in Chicago. I came to America 15 years ago to go to school. America helped me be me and I was able to create a place for myself. I realized that I am not abnormal or not good enough. I AM BIG got created. TY-Ayush Maheshwari.
Chicago, IL (PRWEB) February 06, 2013
I AM BIG is about sharing what's working in a big way. I AM BIG focuses on what makes everyday life extraordinary. I AM BIG believe that there is "bigness" in life. The purpose of this weekly show is to bring folks from everyday life and talk about what's working in their life- what's working in their personal lives, what's working with their careers and what's working with their connection to the community. The show wants to learn how they balance these 3 aspects of their lives. Most importantly, learn and share what makes them them. I AM BIG draws its inspiration from Karma Yatra.
A summary of Karma Yatra:

Literally translated "a Journey of Deeds," Karma Yatra was created to help companies and their employees find empowerment in a rapidly changing society.
Karma Yatra believes that businesses are in an extraordinary position to empower their own employees as well as the customers and communities they serve.
The Karma Yatra Human Relationship Management Principle places great emphasis on the importance of the individual.
At the very center of the I AM BIG triangle, the empowered individual is the primary force that can establish the harmonization of work, home and community. Through intent, action and vital connections with the world, we can all make a positive impact and create a legacy of moving forward together.
Created by Ayush Maheshwari, widely known as Big Indian, in 2002, Karma Yatra has been utilized by companies such as Oracle, i-Vantage, ADP, Acuma, AutoStyleMart, St. Croix Systems and others, receiving coverage from major Indian media outlets more than 200 times.
Maheshwari overcame a difficult childhood to achieve great success including being one of the youngest directors in the history of a Fortune 500 company, releasing a music album with a major record label, and leading charitable outreach to benefit underprivileged children in India.
Maheshwari's I AM BIG show is taking Karma Yatra global.
For more information on Karma Yatra please visit http://www.bigindian.in
I AM BIG show covers a range of topics though its versatile guests. Whether its struggling with an addiction, battling cancer, dealing with infertility issues, trying to find one's true calling, are in the process of coming out to one's family, struggling with weight or if one has been impacted by bullying or divorce, etc. we talk about what is working in people's life and as a result create a network and framework to support others with similar issues. We believe that there is a star in every day people and we want that light to shine.
Stay tuned every Saturday on http://www.iambigshow.com as we bring more inspirational life changing stories to the world.