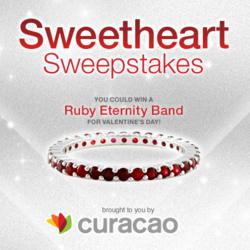 (PRWEB) February 07, 2013
California and Arizona's popular department store chain, Curacao, is offering one lucky customer the chance to win a gorgeous ruby ring this Valentine's Day. From February 4th to February 14th, loyal Curacao fans can follow the company's daily updates about the Sweetheart Sweepstakes through social media engagements on Facebook and Twitter. To be included in the random drawing and win the sparkling prize, participants can choose one of three ways to enter: "Like" Curacao's Facebook post on the company's profile page, "Share" Curacao's Facebook post with friends, or Tweet the message on Twitter.
The winner of the Sweetheart Sweepstakes will receive a free sterling silver eternity ring, encrusted with 34 rubies all around the band, valued at nearly $150. So whether Curacao shoppers are seeking a romantic gift for that special someone, would like to surprise their mothers or sisters with a gift of gratitude, or want to add some beautiful red bling to a fancy wardrobe for a night on the town, this ruby ring is the perfect gift this Valentine's Day. This lovely giveaway is in appreciation of Curacao's loyal customers, who have contributed tremendously to the company's success for over 30 years. "We're excited to give back to the community that has supported our brand for so many years. And what better time to express our appreciation than Valentine's Day?" said Rick Hutton, Curacao President of Retail.
About Curacao
Pronounced: Koo-rah-sao
Curacao, formerly La Curacao, is a leading retail department store chain ranking consistently among the top 50 consumer electronics retailers in the U.S. With its complete company transformation and a fresh new image, along with its knowledgeable and fully trained sales force, it is positioning itself for the future by embracing a broader base of shoppers. Each of its eleven stores averages 100,000 square feet and offers shoppers a 360 experience that is fun and easy to navigate.Curacao has become known as an innovator and trendsetter having successfully captured consumers for three decades. Founded in 1981, today Curacao is headquartered in Los Angeles with retail locations in California, Arizona and soon Nevada. For more information, please visit http://www.icuracao.com.
For additional information regarding Curacao's Sweetheart Sweepstakes or to review the official rules, visit http://www.icuracao.com/valentines-sweeps-2013.
# # #
Contact:
Ruth Garcia
Advertising & Marketing Manager
(213) 639-2069
ruthg(at)icuracao(dot)com
Twitter: @lacuracao
Facebook: http://www.facebook.com/CuracaoUSA