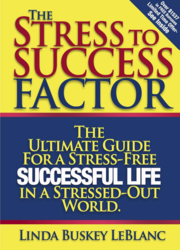 "Without hesitation I will say The Stress to Success Factor is the new 'success bible' of the 21st Century." - Ken Preuss, Co-Author of The New Masters of Online Marketing
Marina Del Ray, CA (PRWEB) February 06, 2013
Though we have experienced the toughest economic times since the Great Depression, never before has there been more opportunity than there is today. The challenge for most people is knowing how to recognize these opportunities in their lives. That's where The Stress to Success Factor: The Ultimate Guide for a Stress-Free Successful Life in a Stressed-Out World will step in to teach you the secrets that others have practiced for centuries.
Business experts, authors and ordinary people have come together to share their success stories: valuable lessons to implement today. Unleash the power of The Stress to Success Factor and begin using these simple, practical, and inspiring solutions every day.
Digital copies of this book come with three amazing bonuses: 1) a video on social presence by Olympic Gold Medalist speed skater Steven Bradbury filmed by Mike L. Murphy, an award winning Hollywood short film director and animator; 2) access to information on Mike's new consulting business for social media; and 3) a free print book by Ian Houghton, the UK's master of business implementation. Also, until February 8th only, amazing bonuses will be provided worth over $1,537.
10% of all proceeds from this publication are going to Habitat for Humanity on Oahu, Hawaii for its work with the homeless on the island.
This e-book is a collection of chapters from 19 top business experts, authors, and ordinary people who share the practical, personal and inspiring ways to eliminate stress in our lives so that ultimately we achieve the success we desire and leave a legacy of significance whether that legacy impacts one person or the entire world.
In addition to Linda Buskey LeBlanc, chapters in this book were contributed by Dan Giercke; Susanne Davis; John Lehman; Mike Warren; Jacqueline Murray Loring; Gaston R. LeBlanc; Maria Termini; Perie Longo; Marilyn Angelena; Jon Yamaguchi; Geraldine Mills; Vanora Spreen; Sheryl Matsuoka; Mandi Susman; Preston H. Hood; Diane Koz; Robin West; Jeff Vacek and Ken Preuss.

Linda Buskey LeBlanc was born in Syracuse, New York. She holds and M.A. in British Literature and taught high school English and creative writing for twenty-six years in New York and Massachusetts schools. She has studied poetry with some of the best academic mentors at workshops around the country since 1999, and has served on the editorial board of the literary magazine, Rosebud. Her poetry has been published in The Aurorean.