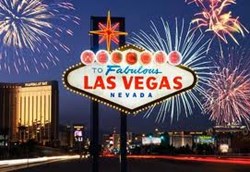 It has a mobile app as well for easy access.
Brandon, FL (PRWEB) February 06, 2013
Valentine's Day is right around the corner and you may be wondering where to take that special someone.
According to statement released by Orbitz, Las Vegas is the top destination for flights and hotels reservations during Valentine's Day. They also named Las Vegas the sexiest city.
Orbitz Travel also posted a YouTube video (see video on this page) offering personal reasons from different people stating why they voted Las Vegas the sexiest city. The motivation for many was not unusual with things like showgirls, buffets, and entertainment venues.
However, DC Fawcett says there's another motivation for him, money.
"My Vegas Vacation is an online portal that allows people to purchase deeply discounted ticket events, hotel reservations, and save on local restaurants. It's like Expedia meets Groupon. It's an online portal all rolled into one local area, and Las Vegas is one of the most visited cities in the world," DC Fawcett said.
Forbes listed Las Vegas as America's sixth most visited city back in 2010.
DC Fawcett said, "I think the My Vegas Vacation model is going to start springing up in other top travel destinations like Chicago, New York and Orlando. It's the perfect solution for traveler's because it puts all the information like theaters, dining, hotels, and events in one location. It has a mobile app as well for easy access."
DC Fawcett continued, "What this does is put relevant information at the fingertips of travelers, and when they purchase through the app or the online portal, the entrepreneur gets a commission. It's like putting the power of word of mouth advertising into overdrive."
DC Fawcett added, "Not only does My Vegas Vacation save you money at local venues, it sets you up to receive commissions for helping people find these venues. It's a win-win if whether you're the user, or the owner."
DC Fawcett teaches basic business marketing principles and Internet marketing strategies to business owners and individuals alike. For more information visit http://www.internetmarketingbasicsblog.com/
DC Fawcett Corporation
DC Fawcett
622 E Lumsden Rd, Brandon, FL 33511-6524
(813) 689-2300