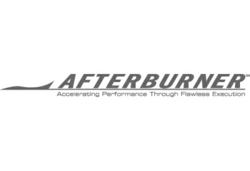 Atlanta, GA (PRWEB) February 07, 2013
A skilled fighter pilot with the industry-leading consulting firm, Afterburner, Inc., was a featured speaker at Kratos' annual sales convention in San Diego. Patrick "Lips" Houlahan led the crowd of 180 through the key principles of the firm's renowned business model, Flawless Execution®.
Comprising four interdependent components, the model was created by former Air Force instructor pilot Jim "Murph" Murphy to combine the skills he acquired in the military and his business experience. The model is comprehensive, featuring all necessary measures to execute flawlessly: the Six Steps to Mission Planning, S.T.E.A.L.T.H. debriefing, among others.
As one of the leading companies in national security, Kratos Defense & Security Systems specializes in designing, selling, and installing complex integrated security systems for United States federal government entities. The company's services range from technology, public safety, and security systems to defense engineering and weapon systems; recent projects include the Freedom Tower and several major airports. With constant technological innovation, the need for adaptability is infinite.
The Flawless Execution® facilitates an environment that is conducive to change. It equips organizations with a proven strategy that aligns individual and company objectives while meeting critical organization goals. The model follows a communication-focused managerial approach that uses the continuous improvement process of Plan.Brief.Execute.Debrief.® to increase efficiency and productivity throughout all levels of an organization.
The event was facilitated by F/A-18 Hornet instructor pilot, Patrick "Lips" Houlahan, who led attendees through the powerful seminar with first-hand accounts of military combat and high-energy fighter pilot footage. Afterburner produces some of the highest impact corporate team building and management training, capable of producing organization-wide change in as little as 10 minutes.
To learn more about Afterburner's innovative approach to professional development and strategy, visit http://www.afterburnerseminars.com or call (404)-835-3500.
About Afterburner
Afterburner, Inc., founded in 1996 by U.S. Air Force fighter pilot Jim "Murph" Murphy, trains organizations around the world in the simple, scalable improvement processes of Flawless Execution, which encompasses the Three E's—Empower, Equip, and Embed. With a client list that includes over 30% of the U.S. Fortune 500, Afterburner was among Inc. Magazine's "Inc. 500 List of America's Fastest Growing Companies" and has been featured in the Wall Street Journal, Business Week, Financial Times, Newsweek, and Meetings and Conventions Magazine. Afterburner has also appeared on CNN, CNBC, Fox News, and Bloomberg News. For information on Afterburner's innovative Flawless Execution Model©, please visit http://www.AfterburnerConsulting.com.