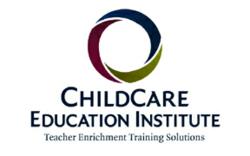 Early care providers will benefit from our oral health training course and we're pleased to support the ADA in this awareness.
Duluth, Ga. (PRWEB) February 07, 2013
ChildCare Education Institute (CCEI), an online child care training provider, offers the course CCEI116A: Early Childhood Oral Health at no cost to all new and returning users February 7 – 11, in support of National Children's Dental Health Month.
National Children's Dental Health Month is annually sponsored by the American Dental Association (ADA) to raise oral health awareness. Promoting proper dental hygiene and long-term care habits in early childhood should be a part of every provider's curriculum. This online course on children's oral health addresses the importance of early and consistent oral health care for young children, teaches early care providers to identify the causes and characteristics of dental decay, and provides strategies for promoting good oral hygiene in the classroom and home environments. Upon successful completion of the course, students will earn 0.1 IACET CEU and access to their certificate of completion. This training meets requirements for one clock-hour of professional development in most U.S. states, and professionals are encouraged to select their state's abbreviation on CCEI's training approval/acceptance map and/or consult their local licensing representative for specific approval information.
"Oral care must be taught to children at a young age in order to create good lifelong habits," says Maria C. Taylor, President and CEO of CCEI. "Research shows that children appreciate structure and routine, which supports the incorporation of an oral hygiene routine both at home and in child care settings. Early care providers will benefit from our oral health training course and we're pleased to support the ADA in this awareness."
CCEI116A is available at no-cost to new and returning users of CCEI's coursework from February 7–11, 2013. In order to access this no-cost course, view the training hour promotion instructions and be sure to enter the promo code TOOTHBRUSH, when prompted. Active individual or center-based subscription holders may enroll in this course at any time without the use of a promotion code.
About CCEI
ChildCare Education Institute provides affordable, online professional development courses and programs for educators in a range of child care settings, including family child care, preschool centers, prekindergarten, nanny care, and more. Over 100 English and Spanish child care courses are available to meet licensing, recognition program, and Head Start training requirements online. Additionally, CCEI offers online certificate programs, such as the Online Child Development Associate (CDA), Online Director Credentials, Early Childhood Credential, and more. CCEI is accredited by the Accrediting Commission of the Distance Education and Training Council (DETC), approved by the International Association for Continuing Education and Training to award IACET Continuing Education Units (CEUs), and authorized under the Nonpublic Postsecondary Educational Institutions Act of 1990, license number 837.
For more information, visit http://www.cceionline.edu or call 1.800.499.9907.