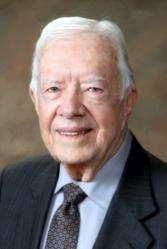 Easton, PA (PRWEB) February 09, 2013
Jimmy Carter, 39th President of the United States, is coming to Lafayette on Monday, April 22 to inaugurate the College's Robert and Margaret Pastor Annual Lecture Series in International Affairs.
Winner of the 2002 Nobel Peace Prize, Carter will speak at 4 p.m. about his work on behalf of human rights, democracy, and peace at the Carter Center, which he founded in 1982.
Information on ticketing for the event will be announced when details are finalized.
The lecture series was established in honor of Robert Pastor '69, a professor of international relations and director of the Center for North American Studies and the Center for Democracy and Election Management at American University. A former U.S. National Security Advisor for Latin America, he also was a senior fellow and director of programs on democracy, Latin America, and China at the Carter Center.
Among the significant foreign policy accomplishments of Carter's administration (1977 to 1981) are the Panama Canal treaties, the Camp David Accords, the treaty of peace between Egypt and Israel, the SALT II treaty with the Soviet Union, and the establishment of U.S. diplomatic relations with the People's Republic of China. He championed human rights throughout the world.
On the domestic side, the administration's achievements included a comprehensive energy program conducted by a new Department of Energy; deregulation in energy, transportation, communications, and finance; major educational programs under a new Department of Education; and major environmental protection legislation, including the Alaska National Interest Lands Conservation Act.
The author of 27 books, Carter became University Distinguished Professor at Emory University in 1982 and founded the Carter Center in the same year. Actively guided by Carter, the nonpartisan, nonprofit center addresses national and international issues of public policy. Fellows, associates, and staff of the center join with Carter in efforts to resolve conflict, promote democracy, protect human rights, and prevent disease and other afflictions. Through the Global 2000 programs, the center advances health and agriculture in the developing world. It has spearheaded the international effort to eradicate Guinea worm disease, which will be the second disease in history to be eliminated.
Read more about Carter's accomplishments here.
##
Higher resolution photo available online
FOR MEDIA interested in covering the event, contact Kathleen Parrish, associate director of media relations, (610) 330-5524 or parrishk(at)lafayette(dot)edu. Media credentials are required.
--------------------------------------------
Lafayette, in Easton, Pa., is a top liberal arts college with 2,400 students and 215 full-time faculty that offers a wide variety of undergraduate degree programs including engineering. With close proximity to New York City and Philadelphia, Lafayette has one of the highest endowment-per-student rates in the nation. This means ample resources to fuel student research, and provide opportunities for study abroad, internships and field work. It means outstanding facilities, Division I sports and funding for 250 student groups on one of the most beautiful campuses in the country.
--------------------------------------------