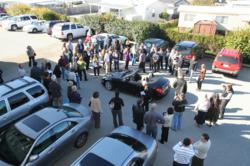 Santa Cruz, California (PRWEB) February 20, 2013
American Dream Realty, servicing the Santa Cruz CA real estate market, is excited to announce the final drawing for a new Mercedes SLK convertible. The giveaway will take place on February 26, 2013 at their main office located at 1041 41st Ave, Santa Cruz CA 96052.
American Dream Realty believes that this contest will continue to encourage a positive and energetic working environment. Agents who are taking part in the contest will accumulate a certain number of points based on the sales, recruiting, continued education, positive feedback they receive from client surveys and team building activities. Any agents joining American Dream Realty during the promotion will also be entered into the final drawing. "No other real estate brokerage is doing anything like this; we are thrilled to be offering this amazing opportunity to our agents," stated owner, Don Gerig. "There is no doubt in our minds that our agents have earned this by exhibiting a high standard for hard work and dedication to our clients over the years."
This contest was created to bring excitement to their agents during one of the toughest times in the real estate industry and has surpassed the company's expectations. In this competitive market, a positive work environment that continues to inspire enthusiasm and motivation is something to be cherished. American Dream Realty strives to do just that while maintaining high ethical standards.
About American Dream Realty
American Dream Realty is a family owned and operated real estate company since 1987. They pride themselves for being one of the top lead generating companies in the industry. ADR has engineered and built from the ground up an effective lead generation system that is managed and maintained by Matt Gerig (Brokers Son). When it comes to innovation and thinking outside of the box, American Dream Realty is one of the front runners in the real estate industry.
As a company with over 25 years of experience, American Dream Realty strives to be the number one resource for the Santa Cruz County real estate market. Their other offices service Scotts Valley real estate and Felton Real Estate aiming to bring the American dream to each and every one of their clients.