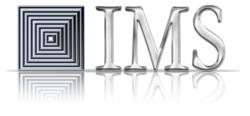 The only sustainable competitive advantage of tomorrow will be the capacity to outlearn your competition.
Los Angeles, CA (PRWEB) February 07, 2013
The Institute for Management Studies (IMS), a leading organization in executive and management development, will be holding a full-day seminar titled "The Leader's Role and Responsibility as Mentor," on Tuesday, February 12, in Los Angeles, California. The seminar will take place at The Double Tree Hotel, 120 S Los Angeles Street, starting at 9:00 AM.
IMS may be a familiar name in executive management seminars. Two weeks prior, on January 29, they will hold a seminar on "Executive Presence." This will be the second in a series on executive training for 21st century business standards. Guests will learn about the shifting dynamic between management and employees, as those who were accustomed to a "parental control" mentality in the office will be exposed to a more "coaching partner" relationship.
Also addressed in The Leader's Role seminar will be wisdom as an underrated commodity in executive management. Current leaders are now called to act as mentors to all the employees they influence. Working under the theory that wisdom is only good if it can be passed down to the next generation of leaders, current executives and managers will learn how to influence and mentor subordinates to maintain high business standards for the future.
Speaking at The Leader's Role seminar will be Dr. Chip Bell. Dr. Bell offers over 30 years of management and organization experience. He most recently served as senior partner with The Chip Bell Group, a management firmed based in Dallas, Texas. Dr. Bell has authored and co-authored many best-selling books such as Magnetic Service, Service Magic, and Customers as Partners. The predominant theme of Dr. Bell's works is the evolution of management's role. He hopes to provide expert analysis and innovative solutions to what many seasoned executives might find a difficult transition.
Registration for this and future IMS sessions is limited to sponsoring organizations. To learn more about The Leader's Role seminar or to see if your organization is eligible for registration, visit the Institute for Management Studies Website at: http://www.ims-online.com/losangeles
About IMS
Established in 1974, the Institute for Management Studies has created some of the most innovating management development training series for its time. The IMS approach is based on direct interaction with some of the most prominent management minds in the world. Members of IMS benefit from a comprehensive education in management skills, with employees becoming more confident decision-makers and more effective leaders.
If you would like to know more about The Leader's Role conference please call Errett Cord at 949-791-7097. You may also e-mail Mr. Cord at losangeles(at)ims-online(dot)com. To learn more about the Institute for Management Studies, please contact their website at http://www.ims-online.com/.