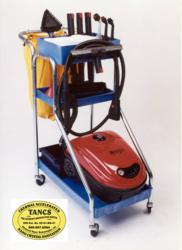 AVT offers a unique steam vapor sanitation device that is better supported by credible testing for microbial reduction - including peer-reviewed studies - than many other products in its category - Beth Risinger, CEO and Executive Director of IEHA
Everett WA (PRWEB) February 12, 2013
Advanced Vapor Technologies' (AVT) TANCS ® Steam Vapor Disinfection System has been designated a "High Performance Cleaning Product for Microbial Reduction" by IEHA under its High Performance Cleaning Product (HPCP) testing program.
"AVT offers a unique steam vapor sanitation device that is better supported by credible testing for microbial reduction - including peer-reviewed studies - than many other products in its category," said Beth Risinger, CEO and Executive Director of IEHA. "AVT's additional testing through the microbiology lab at UMass Lowell (UML) under Toxics Use Reduction Institute (TURI) oversight has yielded stellar results, and we believe they are well-deserving of this honor."
IEHA's High Performance Cleaning Product (HPCP) Program tests, verifies and helps promote hard surface cleaning products with green attributes to enable selection of those that effectively clean a range of building and environmental surfaces. While green certification programs (e.g., Green Seal, EcoLogo, DfE, etc.) do include basic product performance and efficacy criteria as part of an overall environmental review, these organizations, while laudable, emphasize multi-attribute eco-factors more than comprehensive cleaning criteria. To fill this gap, HPCP rigorously targets the cleaning performance of greener products, taking testing to a higher level through application of realistic soils on surface materials likely to be found in actual facilities (e.g., white boards, stainless steel, textured or composite countertops, etc.) This provides end-users with practical test data they can use to improve their specific cleaning situation, and suppliers with lab-based verification of product efficacy under specific, challenging and real-world circumstances. Tests can also be customized to focus on surfaces and soils most likely to be encountered in specific environments such as schools, gymnasiums, theatres, and more.
Who Does the Testing?
The testing is performed by the University of Massachusetts Lowell's TURI Lab, a globally-recognized test lab specializing in performance testing of green products. TURI understands green cleaning product performance perhaps better than any other test facility in the world since they have been in the forefront of testing and helping to improve these products for industrial customers and others for nearly two decades.
Most recently, IEHA and UML-TURI agreed to embark upon germ-kill testing of greener technologies, and Advanced Vapor Technologies was the first technology evaluated. Microbial kill times for the AVT system which uses only tap water to produce treated steam, are in the *seconds* rather than minutes of dwell time typical of many chemical interventions.
About Advanced Vapor Technologies
Advanced Vapor Technologies (AVT) is the maker of proprietary, water-only steam vapor cleaning and disinfection systems. AVT systems reduce health risks associated with typical chemical cleaners, eradicate a wide range of bacteria and pathogens, improve indoor environmental quality and help prevent indoor hazards and surface degradation associated with chemical use. TANCS® -http://advap.com/tancs/ a registered trademark of Advanced Vapor Technologies (AVT) - is many times more effective than standard chemical disinfectants, without the associated risks to people, the environment, and surfaces.
About IEHA
IEHA is a 3,500-plus professional member organization for persons who direct cleaning, maintenance, housekeeping, groundskeeping, safety and/or indoor environmental programs in commercial, industrial or institutional facilities. The organization was founded in New York City in 1930, and is now located in Westerville, Ohio, a suburb of the State's capitol, Columbus. IEHA provides its members with an array of professional development, educational, certification and career opportunities. For more information, visit http://www.ieha.org.