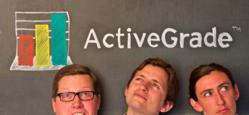 "The combination of our technologies will be a tremendous boost for schools looking to implement standards-based grading." - Bryan Falcon, CEO Haiku Learning
Goshen, IN (PRWEB) February 07, 2013
Haiku Learning announces today that it has signed a definitive agreement to acquire ActiveGrade, LLC. The companies will immediately begin work on integrating their products to provide schools with a full-featured standards-ready learning platform.
Haiku Learning's CEO, Bryan Falcon says "We are thrilled to be bringing on the amazing team who created the most beautiful standards-based functionality we've ever seen. Teachers, schools, and districts choose both Haiku and ActiveGrade because we offer best-in-class usability, and we think the combination of our technologies will be a tremendous boost for schools looking to implement standards-based grading."
ActiveGrade is a web-based gradebook wholly dedicated to standards-based grading. ActiveGrade was built by three teachers in Iowa City, Iowa. After struggling to implement standards-based grading in their own classrooms utilizing spreadsheets, they set out to build a tool that would enable teachers to provide their students with regular specific feedback about the student's strengths and weaknesses. In addition, they wanted teachers to be able to use the daily data to adapt their lesson plans to student needs. ActiveGrade is currently helping thousands of classroom teachers in dozens of countries around the world embrace standards-based learning. In addition, the ActiveGrade team and their innovative approach have been featured in Silicon Prairie News, the Huffington Post, and the Harvard Education Newsletter.
"We are so excited to be joining a team that has thoughtfully built a simple but powerful learning management tool. Now we can continue to focus on what we do best while offering more great features to our schools," says ActiveGrade co-founder Michal Eynon-Lynch.
Haiku Learning is a leading cloud-based learning management system expressly designed to meet the needs of K-12 schools and districts. Since launching their product in 2006, the company has grown to more than 20 employees and serves more than 400 customers and nearly 1 Million active accounts. The Haiku Learning platform is known primarily for its ease-of-use and seamless integration with Google Apps for Education. Marquee clients using the Haiku platform include Sidwell Friends School, Lake Washington School District, and Riverside Unified School District.
Standards-based grading is a system of reporting student proficiency in a number of specific learning goals (or standards). Rather than give students one grade on a test that assessed multiple skills, this system gives students a number of scores that represent their proficiency in each of the skills assessed.