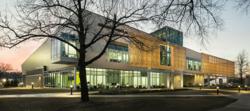 Their team did an incredible job, and exceeded my expectations in every way. KSQ Architects' customer service and responsiveness was outstanding.
Tulsa, OK (PRWEB) February 07, 2013
Modern, sleek and youthful are just a few of the descriptors appropriate for the newly completed Armand Hammer Alumni-Student Center designed by KSQ Architects for Oral Roberts University. The student center was dedicated at a grand opening ceremony on February 1.
"ORU brought us a strong vision of what they wanted in terms of both form and function, and KSQ delivered a project we're all very proud of," says Mark Bragg, principal and project manager for KSQ. "We're confident the students will appreciate both the modern design and the high tech amenities this building offers."
The $11 million building encompasses 28,000 square feet and was designed to provide food, fun and fellowship for ORU's students and alumni. The exterior is comprised of a creamy, imported thin porcelain tile and blue reflective glass, a striking, modern combination that underscores a fresh new image for the University. The west and south-facing exterior elevations feature a perforated metal screen wall that by day acts as a sunscreen and by night as a dramatic electronic LED light display. The south screen also serves as a backdrop for drive-in movies and 3-D light shows. Inside, a vibrant, youthful color palette and contemporary furnishings serve to delineate student activity zones including quiet spaces, live performance areas, pool tables and video game consoles, an Internet café and a mammoth 12' x 21' screen for viewing concerts, sporting events or serious video game competitions. The second floor of the student center houses alumni relations and development offices, and serves as a gathering space for alumni events.
Tim Philley, executive vice president and chief operations officer for ORU also expressed his approval of the project's result. "All I can say is wow! KSQ's concept design compared to what the building finally looked like once completed was incredibly accurate. Their team did an incredible job, and exceeded my expectations in every way. KSQ's customer service and responsiveness was outstanding."
About KSQ Architects
With offices in offices in Oklahoma, New York and Texas, KSQ Architects is a full-service architectural firm providing programming, planning, architectural and interior design services. The firm specializes in collegiate life, K-12 and multifamily housing facilities throughout the United States. A hands-on, environmentally sensitive approach is fundamental to each KSQ project, and ensures a rare level of personalized attention and sustainable methodology. For more information, contact Monica Roberts, Communications Manager, 918-592-0622 or mroberts(at)ksqarchitects(dot)com.