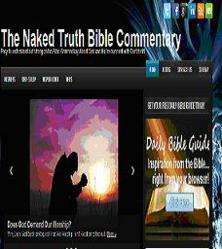 This is such a great website. I am adding it to my sunshine sites! - Tonya
(PRWEB) February 09, 2013
http://www.thenakedtruthbibleseries.com/ Naked Truth Ministries Launches Bible Questions and Answers Website.
Naked Truth Ministries, located in Atlanta, Ga announces the launch of its new website called The Naked Truth Bible Commentary. The site specializes in Bible answers to tough questions. It deals with those hard Bible questions and answers most other sites sigh away from.
Tackling such Bible subjects as "Why Does God Demand Worship?" or "What is the difference between the Old and New Covenants?", The Naked Truth Bible Commentary takes you beyond the surface reading to deal with those difficult questions about the bible.
The Naked Truth Bible Commentary provides "answers to tough questions in a simple and understandable format" says Naked Truth Ministries founder Terry Daniels. "And best of all, it answers questions about the Bible and it's ultimate objective in a clear and definitive way" he goes on to say.
The relatively new website offers a contemporary look and streamlined user experience. It features enhanced resources and functionality designed exclusively for the studious end-users.
The website is a true resource for Bible truth seekers. Not only does it present Scripture in a true and inspiring way, it presents those truths in a "usable" way, where they can be applied in day to day life challenges.
Terry Daniels, founder of Naked Truth Ministries, can be reached at: terryjdaniels@gmail.com.