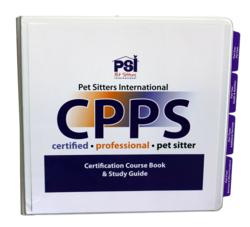 Online marketing is here to stay and our newest chapters in the CPPS program will educate pet sitters on how they can most effectively use it to promote their businesses
King, NC (PRWEB) February 07, 2013
As part of its ongoing effort to provide professional pet sitters with the tools they need to succeed in the ever-growing pet-care industry, Pet Sitters International (PSI) has added two new chapters to its Certified Professional Pet Sitter (CPPS) curriculum, making it the first program in the industry to offer comprehensive training in online and social media marketing. The new chapters provide valuable information on new media marketing, an area that is showing growth among professional pet sitters, according to a recent survey of PSI member businesses.
"One of PSI's top goals is keeping our members on the cutting edge of technology so they can stay ahead of the competition," said PSI President Patti Moran. "Online marketing is here to stay, and our newest chapters in the CPPS program will educate pet sitters on how they can most effectively use it to promote their businesses."
Moran adds that a recent PSI survey found that more than half of its professional pet-sitting members are using social media for business. The new additions to the CPPS program will ensure that pet sitters are using these tools to their best advantage.
PSI began offering a basic educational course for professional pet sitters in 1995 and in 2005 created the first comprehensive program of its kind to address all aspects of the pet-sitting industry from pet nutrition and care to office procedures. The program is updated regularly by PSI staff and industry experts to reflect the most current pet-care information and business technologies.
"The PSI Certification curriculum is current and comprehensive. It provides instruction that allows pet sitters to become talented, motivated and educated resources for their clients," said Dr. Nancy Kay, author, lecturer and award-winning veterinarian, who recently reviewed the program. "It's an outstanding resource for people interested in a professional pet-sitting career."
The program's new chapters feature detailed information on the various types of online and social media marketing available, basic website planning and content recommendations, SEO information and social media etiquette.
For pet-sitting business owners who are just starting out and need to create their first websites or veteran sitters who need to update their current sites, the online marketing chapter offers guidance on the many options available from free website-building programs to using a professional web developer. The most effective design styles and the most important content to include on a website are just a few of the subjects covered in this chapter.
Keeping up with the ever-changing social media platforms can be a challenge even for more experienced pet sitters. For those using social media for business promotion, it can be even more confusing. The social media chapter provides pet sitters with an overview of the most popular social media sites as well as a detailed list of important terms to know when using social media for business.
"We have seen increased engagement with pet sitters on PSI's own social media sites in the last few years," said Beth Stultz, PSI marketing manager. "As our pet-sitting members become more comfortable with the various platforms, we anticipate their use of social media and online marketing for their own businesses will increase as well. For those pet sitters who are still coming up the learning curve of online and social media marketing, the new chapters in the CPPS program will be a great resource."
In addition to chapters on social media and online marketing, the CPPS curriculum also covers basic business and office procedures, pet sitter safety and employee hiring and management. Pet health and nutrition chapters include information on animal diseases, first aid, puppy care and senior pet care. The extensive pet-care chapters cover everything from barnyard pets and livestock to dogs, cats and reptiles. In the coming months PSI also plans to add chapters on fish care and business etiquette.
To learn more about PSI or the PSI Certification Program, visit http://www.petsit.com. During next month's Professional Pet Sitters Week™, March 3-9, PSI will offer current and prospective pet sitters a free downloadable excerpt of the PSI Certification Program.
About Pet Sitters International
Founded by Patti Moran Pet Sitters International (PSI) is the world's largest educational association for professional pet sitters, representing more than 7,000 independent professional in-home pet-care businesses in the United States, Canada and abroad. PSI provides members with access to affordable bonding and liability insurance as well as educational resources that include a comprehensive Certification Program, Pet Sitter's WORLD magazine, The Scoop e-news and PSI's annual Quest for Excellence convention. For more information, visit http://www.petsit.com, home of the Official Pet Sitter Locator™ or sign up to receive The Scoop on Pet Care. Visit the PSIStoreOnline, the largest specialty retailer of products for pet sitters and pet-sitting business owners.