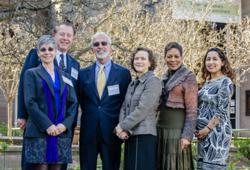 "Student success does not arise by chance," Vincent Tinto, Distinguished University Professor of Sociology, Syracuse University
Atherton, CA (PRWEB) February 07, 2013
"Student success does not arise by chance," stated Vincent Tinto, Distinguished University Professor of Sociology at Syracuse University, at the Financial Literacy and College Persistence conference held at Menlo College.
Speaking to representatives from over 20 colleges and universities around the country and 25 non-profits, funders, and community organizations, Tinto explaining that student success requires educators who engage in discourse, build momentum, identify roadblocks, and construct coherent pathways to completion.
Provost James Woolever, opened the conference saying, "The issue of financial literacy has become the "talk of the town. "The failings of one generation should not be the condition of the next. The time has come to prepare the next generation."
Professor Donna Little, Associate Professor of Accounting and Finance at Menlo College, discussed the conference goals and why financial literacy is a "hot topic."
"I conceptualize college as a cost benefit analysis," said Professor Little. "I want my students to conceptualize it the same way. Can they analyze the costs? Can they analyze the benefits? Can they put that all together and if they do so, will that enable them to persist, take their courses more seriously, and work toward a goal of graduation, a goal of saving after graduation, a goal of a life plan?"
"Financial knowledge is positively associated with college retention, but the causality is not clear," said Lewis Mandell, Professor Emeritus, SUNY Buffalo. Mandell, a widely cited and noted financial economist, talked about strategies that colleges and universities can take to help students become financially competent.
Tinto, originator of the prevailing theory in the field of retention, gave his insights about the research on persistence and why students leave college. Tinto noted that the research on student failure in a course suggests that when students get confused early in a course, they get discouraged. The solution is to offer support to students in the first two weeks.
Rebecca Macieira-Kaufmann, President of Citibank California, spoke about innovation in support of financial literacy in college access programs. She described her involvement with Menlo College since 2010 when Citi sponsored "Learn and Invest for Tomorrow" or LIFT. The program focused on using financial literacy to enable more low to moderate income youth to make a successful transition into college.
Macieira-Kaufmann and Jenny Flores, Senior Vice President at Citi Community Development, also introduced "Kindergarten to College," a joint program between Citibank and the City and County of San Francisco, the nation's first universal savings program automatically open to every kindergarten child in the San Francisco Unified School District.
Valerie Coleman Morris, Emmy-winning journalist and author, called for personal financial education to start as early as three years old at home. Further, she said, it should be reinforced throughout teen to young-adult life so that young people can develop practical financial competency by the time they are in their 20s.
"Financial parenting is by far the strongest link," said Joyce Serido, Assistant Research Professor at the University of Arizona's Norton School of Family and Consumer Sciences.
Presentations and panels included non-profit representatives, corporate, and academic speakers and covered topics including online college financial planning resources and financial literacy and access to college programs and counseling services.
The non-profit Peninsula College Fund tweeted, "Great conference at Menlo College on finances & student retention: social engagement & intellectual engagement go hand in hand."
Read about the featured speaker presentations and panel discussions at http://www.menlo.edu/news/financial-literacy-and-college-persistence-conference.