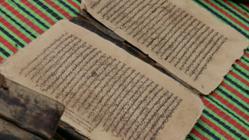 "Mali has a strong tradition of settling differences through dialogue, tolerance, and forgiveness – doctrines contained within the ancient manuscripts,"
PHILADELPHIA, Penn (PRWEB) February 12, 2013
The recent conflict in the Malian city of Timbuktu has endangered thousands of significant ancient manuscripts. The Malian Manuscript Foundation has been working since March 2011 to preserve the manuscripts and raise awareness of their significance by way of the documentary film "333."
"Mali has a strong tradition of settling differences through dialogue, tolerance, and forgiveness – doctrines contained within the ancient manuscripts," said Michael Covitt, chairman of the Foundation. "The manuscripts serve as blueprints for peace, tolerance, cultural diversity, and conflict resolution, which have led to stability and safety in Mali for nearly 1,000 years."
The Foundation plans to digitally preserve the manuscripts, which date as far back as the 12th century. Covitt worries that many manuscripts may still be lost in the current turmoil.
Early reports declared jihadists had set the Ahmed Baba Institute ablaze and destroyed more than 20,000 of the manuscripts. But more recently, the University of Cape Town stated that only a limited number of documents had been damaged, destroyed or stolen.
"We have been tracking the condition of the manuscripts since before the military coup in April of last year," Covitt continued. "Desecration of these manuscripts would be tantamount to destruction of the Dead Sea Scrolls."
Covitt has produced a documentary entitled 333 to support the work of the Foundation. The film is named for Timbuktu, which is known as "the City of 333 Saints," in recognition of the many important Islamic Sufi saints and scholars buried there.
The 95-minute film details the positive impact of the ancient manuscripts on Malian life, before the overthrow of the government.
"333 recounts the teachings of the ancient manuscripts, in practice for numerous centuries by the peaceful Malian people," said Covitt. "They serve as a roadmap for peace and conflict resolution for all people and nations."
After viewing the film, U.N. Ambassador of Mali, Oumar Daou, stated, "I thought that this film was just about the Manuscripts; but it is a tutorial for the entire United Nations."
The film has been screened for the United Nations, for various government departments, and for select audiences internationally. Covitt recently presented the film at St. Francis College, and Lehigh University. Upcoming screenings include the Vatican, and Armstrong Auditorium on the campus of Herbert W. Armstrong College in Edmond, OK.
For more information and to view the 5-minute trailer, visit http://www.sabatierfilmgroup.com.