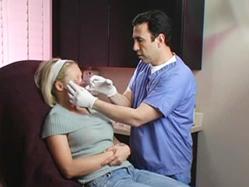 Botox is a highly versatile drug, useful for treating a wide variety of conditions.
Los Angeles, California (PRWEB) February 06, 2013
According to a recent London Evening Standard article, Nicole Kidman told La Repubblica, an Italian newspaper that she had tried Botox but that she'd given it up and "now I can finally move my face again." (go to: goo.gl/N95uz)
Dr. Simon Ourian, Medical Director of Epione Medical Corporation in Beverly Hills emphasizes the importance of treading carefully with Botox. "The frozen face Nicole Kidman is talking about can occur when a patient places their health in the hands of an inexperienced injector," says Dr. Ourian. "It's important for patients to get their Botox from an experienced physician injector."
Botox is used in small doses to treat frown lines and wrinkles. When injected correctly, it can produce a refreshed, youthful appearance. Injected improperly, it can lead to the unsettling look that has become the stuff of gossip and late night jokes.
So how can patients tell a good Botox treatment from a bad one?
Good: Botox is administered by a medical professional.
Bad: Patients who get treated by individuals other than doctors are more susceptible to the adverse reactions associated with the use and misuse of Botox.
Good: Botox is given in the right amounts and injected in the right spots.
Bad: Too much is given and the procedure is not done well, resulting to a number of complications such as lopsidedness, droopy eyelids and asymmetry of the face.
"At Epione we have Registered Nurses but I'm the only one that administers Botox," says Dr. Ourian. "When treatments are properly spaced, and administered in proper doses, Botox has proven to be widely effective."
Dr. Ourian has been a pioneer of laser technology and non-invasive aesthetic procedures including Restylane, Botox, Juvéderm, Radiesse and Sculptra. These treatments are used for the correction or reversal of a variety of conditions such as acne, acne scars, skin discoloration, wrinkles, stretch marks, varicose veins, cellulite, and others. More information about Botox injections can be found on their website