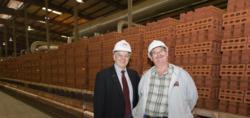 "I believe that we can finally say with confidence that our local homebuilding market is coming back." Dennis Knautz, President and CEO of Acme Brick Company.
Fort Worth, Texas (PRWEB) February 07, 2013
This plant, just west of Dallas/Fort Worth and built in 1996, is located on the site of Acme's first brick making facility that began producing hard-fired brick in April, 1891. Acme is also reopening a portion of the company's Texas Clay plant located in Malakoff near Athens, Texas. For more details about Acme Brick, visit http://www.brick.com.
Dennis Knautz, Acme President and CEO said, "It's very exciting and to see this brick plant back in the business of making quality brick for our region's homes. In December 2006, annual construction activity in the DFW area peaked at 182 million square feet. We then witnessed demand plummet by nearly 70% to a low of only 57 million square feet by the start of 2011. Over the course of the past year, we have seen a rebirth of activity here in the Metroplex with construction now totaling 83 million square feet and forecasted to rise by double digits in 2013.
Given the recovering construction sector and the strong demand seen at other Acme plants, we believe that it is an absolute necessity to restart operations at this facility in order to have an adequate supply of brick for our homebuilder customers.
Nearly the same story can be told about our Texas Clay plant in Malakoff. The year 2012 witnessed greater order demand for that plant's brick products. In response, we restarted that plant's third kiln in late December with the plan to bring Texas Clay to full capacity as quickly as possible.
It is also important to note that during the "down time", we consciously retained a select group of key associates on the payroll who were assigned to a variety of projects - mostly at other Acme facilities - requiring them to travel and spend much time away from their families. While this group welcomes the end of travel and the return to working locally, they will work with and help train about 60 new associates who will be joining the company.
Our job is to provide high-quality, maintenance-free building materials to our homebuilder customers so they can meet the growing demand from homebuyers across the region. I believe that we can finally say with confidence that our local homebuilding market is coming back."
At full production the Bennett plant is capable of producing over two million residential brick per week or roughly enough brick for 150 average sized homes.