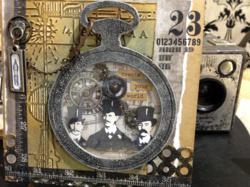 Lake Forest, Calif. (PRWEB) February 07, 2013
At the center of one of today's hottest creative trends, Tim Holtz revealed his latest exciting assortment of die cutting and embossing products at CHA Winter 2013 to the intrigue of retailers and show attendees. Since its debut launch, the value and creativity of his Alterations line with Sizzix® continues to grow in artful appeal and possibilities. The eagerly anticipated release of the latest Alterations line of products for Sizzix is especially noteworthy for its ability to work with all of Tim's past releases as well as his other product releases from his various licensed lines.
Catching many eyes at CHA, this incredibly versatile assortment includes Bigz™ Dies ranging from a vintage Picture Wheel to architectural Pediments with extensive uses and versatility to a Texture Trades™ Embossing Folders Numbers Set which marks the first time Sizzix has offered large embossed numbers (3" x 4 ½") that can be used to complement today's trend of decorative numbers. The Movers & Shapers™ Mini Clipboard Magnetic Die Set created many curiosities with its functionality to actually hold various sizes of pictures or gift cards with adjustable widths for the clipboards. In the months ahead, Tim will continue to share ideas and techniques using his innovative and eclectic styling of Alterations designs on his website timholtz.com.
About Alterations
The Tim Holtz Alterations line of products is a creative assortment that brings together many mixed-media dies and embossing products for countless creative applications with the motorized Sizzix Vagabond™ Machine. Each element was specifically designed to work with Tim's other products to inspire paper crafters and mixed media artists to discover their true creativity.
About Tim Holtz
Tim Holtz is the Creative Director for Ranger Industries, one of the leading manufacturers of innovative inks, paints and embossing products. Tim plays an integral part in the development and design of cutting-edge papercrafting products. Tim has teamed up with various key companies like Ranger, Advantus, Tonic Studios, Sizzix, Stampers Anonymous and Core'dinations to bring unique products that work hand in hand. Learn more about Tim and connect to video tutorials and his blog at TimHoltz.com.
About Sizzix
Launched in 2001, Sizzix is a division of Ellison Educational Equipment Inc., the market pioneer and leader of die cutting machines and accessories. Through its portfolio of die cutting machines and die cutting products, Sizzix leverages Ellison's 35 years of proven manufacturing and technology heritage to empower creativity among its customer base with new and innovative products. Sizzix is a recognized global brand that can be found in over 100 countries and in major and specialty retailers. For more information on Sizzix and its line of craft-inspiring products, please visit Sizzix.com.
# # #