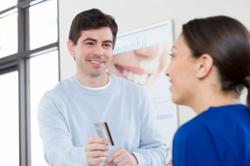 "We know that for many people going to the dentist doesn't rate high on the fun meter, and at times it can even be scary, so we are setting out to simply share the joy of a whole-hearted smile." - Nannette Richardson
Irvine, Calif. (PRWEB) February 07, 2013
Smile Brands Inc., one of the nation's leading providers of business support services to dental groups in the United States, is today announcing the launch of its new social media campaign, "Reasons to Smile." Each month, the campaign will offer a new reason to smile to the online communities for each brand under which the affiliated dental groups operate, reminding people of the power of contagious joy of a confident smile.
"We know that for many people going to the dentist doesn't rate high on the fun meter, and at times it can even be scary, so we are setting out to simply share the joy of a whole-hearted smile," says Nannette Richardson, Vice President of Marketing for Smile Brands Inc. "Through this campaign, we are trying to connect with patients in a way that goes beyond dental visits. Once our affiliated dentists have given someone a smile that's non-treatment related we think they will be more receptive to listening to experts share oral health advice."
The company launched a pilot program in late 2012 where they gave away 4,500 Amazon® gift cards on Facebook. The first "Reason to Smile" was launched in January of this year, offering a giveaway of nine $100 Starbucks gift cards, three per brand, in an effort to share an after-holiday pick-me-up and give the winners a reason to smile.
To highlight February as Children's' Dental Health Month and to continue the campaign, Smile Brands will post a cute or humorous video of a child each day starting February 11th along with a children's dental health tip. Pairing the funny video with the serious dental tip will brighten up the day while still sharing important information.
The company will continue to announce their "Reasons to Smile" throughout the year including teeth whitening kit giveaways, free electric toothbrushes and more.
About Smile Brands Inc.
Smile Brands Inc. is one of the largest providers of support services to dental groups in the United States. Smile Brands Inc. provides comprehensive business support services so dentists can spend more time caring for their patients and less time on the administrative, marketing and financial aspects of operating a dental practice. Smile Brands Inc. services support more than 1,300 dentists and hygienists practicing in over 360 Bright Now!® Dental, Monarch Dental®, and Castle Dental® offices in 18 states.
Nearly three quarters of a million people a year take advantage of extended evening and weekend office hours, convenient locations, affordable prices, and flexible payment plans for quality, full-service dental care including general and cosmetic dentistry, and specialty services such as orthodontics at affiliated Smile Brands offices.
Based in Irvine, Calif., Smile Brands Inc. and its affiliated dental offices combined employ approximately 4,600 people nationwide. For more information, visit http://www.smilebrands.com.