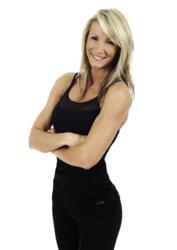 Elizabethtown, KY (PRWEB) February 06, 2013
Holly Rigsby, the famed busy mom exercise expert and founder of Fit Yummy Mummy, has teamed up with world renowned resistance band training expert Dave Schmitz to unveil a new product – the Bands for Busy Moms workout program.
Launched earlier this week, the new product is currently available online through Fit Yummy Mummy. Through this Friday, February 8th, at Midnight EST, the Bands for Busy Moms product is on sale for 50% off the actual retail price.
"For the past half decade Fit Yummy Mummy has been helping busy moms achieve their fat loss goals quickly and safely," Rigsby notes proudly. "Now we are adding resistance bands to our training arsenal."
While Rigsby explains that it is difficult for many moms to work out consistently given the demands of raising children and their other assorted responsibilities, resistance bands are a simple to use and time effective workout tool.
"I think that resistance bands are far and away one of the best tools to add to your workout program," the fat loss for moms expert claims. "And with this new product, we have enlisted the world's foremost resistance band authority to help create the program."
Small and lightweight, resistance bands are one of the most frequently favored tools by elite trainers looking to take their workouts on the go. Without requiring bulky equipment, resistance bands offer a full postnatal resistance band workout with minimal constraints.
"Best of all, resistance bands are super-lightweight and extremely portable, which is really important to me because I do like to travel to visit family and go on the occasional vacation with my boys without sacrificing my workouts," Rigsby, a mother of two, says.
The Bands for Busy Moms product features expert Dave Schmitz leading Holly Rigsby and the home audience through a series of video workouts.
Each video covers different aspects of busy mom fat loss training with resistance bands. Video 1 concerns improving posture, video 2 is an upper body blast for moms hoping to burn baby belly, and Video 3 is the lower body workout video.
The remaining two videos cover training what Rigsby has called "trouble spots for new moms." These include a video on how to lose muffin top fat and another covering how to build "sexy arms and shoulders."
In addition, customers who purchase the product now will receive three bonus videos: a video on cardio training with resistance bands and another on performing resistance band based metabolic circuits. The final bonus is a how to guide for travelers looking to workout in hotel rooms.
Beyond the video bonuses, the new product also comes with 4 timed workout soundtracks.
Bands for Busy Moms launched yesterday, and it is on sale for 50% off the retail price through this Friday at Midnight EST.
For more information on the Bands for Busy Moms product, visit: http://busymombandworkouts.com/
For more information on Fit Yummy Mummy, visit http://www.getfitandyummy.com/
About Holly Rigsby: Holly Rigsby is the Co-Owner of Fit Yummy Mummy. She offers her clients a variety of training products to help them burn fat and writes a fitness blog for FYM.
Fit Yummy Mummy is part of the Fitness Consulting Group family of companies. FYM releases fitness products for moms looking to burn fat and get in shape. It also offers workout tips through its blog.
###