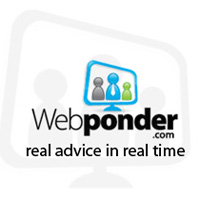 Each Expert has the ability to set his or her own video consultation rate.
Miami, Florida (PRWEB) February 08, 2013
Webponder.com, a video consultation expert advice website based out of Miami, Florida is excited to announce that it has completed BETA testing and is now moving toward nationwide launch.
Webponder connects experts and professionals in a variety of fields, such as legal, technology, auto, and business, with visitors who are looking to get answers or advice in that area. The visitor and expert then connect through a live video consultation that takes place directly on Webponder.com with no download, installation, or setup required, to provide, for example, online legal advice. Users have raved at the simplicity of the design and ease of use for requesting, and joining, a scheduled consultation. Webponder was designed and developed by the team at http://www.NetroStar.com.
Each Expert has the ability to set his or her own video consultation rate. They can also elect to offer free consultations, or a combination of both paid and free, as well. Experts who offer free consultations do so in the hope that at the conclusion of the video consultation the person seeking the advice elects to retain them for their services.
Webponder has experts in nearly 30 states in dozens of different categories, and Webponder's goal is to become the "go-to" destination for real time advice. Those visiting Webponder in search of an expert or professional, otherwise known as Members, can join Webponder for free, and even use the entire service at no charge if they are having a video consultation with an expert who is offering a free consultation. Experts pay a monthly membership fee to be listed in the directory, have video consultation capabilities, and use a variety of other features and functionalities. Webponder currently does not receive any portion of the consultation fees.
Some other features that both Members and Experts may find useful and interesting are:

Featured Expert Geographical Exclusivity in an Expert's area
Ability to upload Videos to an Expert profile to give Members a sneak peak
Ability to upload Articles and Blog Postings to an Expert Profile
Take private "Notes" and transfer files within the consultation
A Q & A Forum where Members can post questions publicly and Experts can respond
Privacy for Members as their profiles are not public
Webponder is looking to continue its expansion and register professionals and experts in a variety of industries across the entire United States and continue its mission to be the go-to source for credible online advice from experienced professionals.