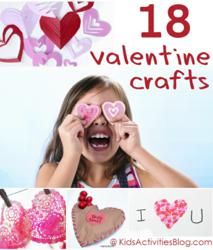 Create a sensory sink at home for Valentines to surprise the entire family.
Dallas, Texas (PRWEB) February 08, 2013
Fun and easy to do Valentines crafts for kids have been published on Kids Activities Blog this week.
Among the simple craft ideas are creating coded homemade Valentines, making paper chain hearts and mixing birdseeds to create Valentines for the critters living in the backyard. Other fun ideas include baking salt dough hanging hearts, decorating the window with doiles, and sewing paper bags in a special way to create "hearts."
The most favorite Valentines Day activities published on Kids Activities Blog include making a sensory sink with rose pedals and fragrant soaps, making felt envelopes for special Valentine notes, doing an act of kindness and showing the kids how much they are loved by making a Valentines Day tree.
Another cool idea for Valentines is "I love red" art. The idea involves making a collage out of paper scraps, ribbon, fabric pieces, glitter and other scraps found around the house. The idea is cheap, easy to do and great for kids of all ages. The result is a beautiful masterpiece that will make a great present for any loved one or a treasured keepsake for years to come.
For detailed instructions and to get additional ideas, check out Kids Activities Blog during the month of February.
About Kids Activities Blog
Kids Activities Blog is a website created by two moms (who collectively have 9 children), Rachel Miller and Holly Homer from June Cleaver Nirvana. It is their daily goal to inspire parents and teachers to play with kids. This interactive website publishes simple things to do with kids twice a day. Kids Activities Blog is a great tool for moms and teachers to find kid-friendly activities that create memories and sneak learning into the fun.