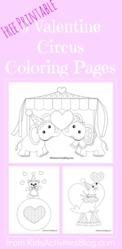 Create fun Valentines by coloring with anything but markers and crayons.
Dallas, Texas (PRWEB) February 11, 2013
Adorable circus Valentine's coloring pages have been released on Kids Activities Blog. The three printables will make any circus lover smile.
These cute pages are perfect to get the party started in school, at home or they can make adorable DIY Valentines for relatives and friends. The pages feature elephants raising a heart, a bear dancing on a large decorated ball balancing hearts, and a seal balancing a polka-dot heart ball.
Another Valentine's Day coloring pages set is specifically made for non-mushy kids. The cool robot theme pictures show a quizzical fellow with a heart outline on his chest, a robot couple, and love for gears.
These Valentine printables are perfect for coloring with anything but markers or crayons. Kids Activities Blog features a laundry list of ideas that turn these pages into keepsake art.
Among the most favorite ideas are gluing flat colored marbles to fill in the design, outlining the shapes with colored glue, and turning the fun pages into cool designer airplanes.
Another kids favorite is creating 3D art by cutting out the designs and making cool scenes. For a complete set of instructions and a laundry list of printables for all sorts of occasions check out Kids Activities Blog.
About Kids Activities Blog
Kids Activities Blog is a website created by two moms (who collectively have 9 children), Rachel Miller and Holly Homer from June Cleaver Nirvana. It is their daily goal to inspire parents and teachers to play with kids. This interactive website publishes simple things to do with kids twice a day. Kids Activities Blog is a great tool for moms and teachers to find kid-friendly activities that create memories and sneak learning into the fun.