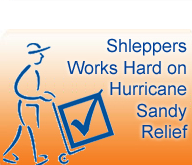 "Shleppers began when rent in New York City was $600 for a two-bedroom apartment; we became successful then, we are successful now, and we view these potential regulatory changes as a chance to be successful in the future," said a Shleppers representative
(PRWEB) February 18, 2013
Shleppers, the leading New York moving company, reacted to the news that New York City has approved a project to construct a building of micro-apartments. These new apartments will not be subjected to the city's ordinary zoning regulations on minimum square footage and apartment density. The regulatory exceptions are designed to test whether micro-apartments are satisfactory and thus the zoning laws should be amended. In essence, these new micro-apartments are a test for the future of New York City's housing and with it, the future of the area's moving and storage industry.
"Shleppers began when rent in New York City was $600 for a two-bedroom apartment; we became successful then, we are successful now, and we view these potential regulatory changes as a chance to be successful in the future," said a Shleppers representative. "If micro-apartments become popular, we believe more people will be living—and thus moving into—the city and probably will move with greater frequency. If the city changes its regulations, our moving company will be ready to adapt and we believe we can do so successfully." Micro-apartments in the new building will range from 250 to 370 square feet and will feature common spaces for the building that might otherwise be constructed in each individual apartment. These common spaces will include lounges on most floors, a café, fitness room, and a rooftop garden.
About Shleppers
Established in 1978, Shleppers has been New York City's leading moving and storage company for over thirty years. Shleppers provides a full line of moving services including local and long distance moving, international relocation, commercial relocation, private storage, and moving supplies. From families to businesses to celebrities, Shleppers has moved every type of New Yorker in its three decades of experience. Shleppers employs all of its NY movers in-house instead of contracting the work out in order to ensure quality and control over the customers' moving experience. For additional information please visit, http://www.shleppers.com.