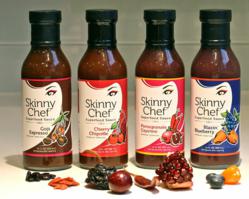 Good Health Begins In Your Kitchen
New York City, New York (PRWEB) February 07, 2013
Jennifer Iserloh, the Skinny Chef, is readying a new line of delicious superfood sauces designed to promote a healthy lifestyle and support her commitment to natural weight loss.
Each of the four sauces - Goji Espresso, Cherry Chipotle, Pomegranate Cayenne and Blazin' Blueberry - can be used with a variety of meats and vegetables for grilling, broiling, baking, marinating and finishing. At approximately 35 calories per serving and with only 40 mg sodium per 2 tablespoons, they are ideal for anyone who is pre-diabetic, needs to control their sodium intake or is on a low-carb diet. The sauces are also packed with a nutritional boost thanks to their superfood ingredients.
A certified health coach, renowned healthy cooking expert and best selling author, Iserloh is working to finance the initial production of her superfood sauce line by raising a minimum of $25,000 through the indiegogo.com crowdfunding platform. The indiegogo online platform (http://www.indiegogo.com/projects/skinny-chef-superfood-sauces) encourages individuals to collectively help entrepreneurs bring new products and businesses to life through contributions ranging from $10 to $10,000.
"We need to raise $25,000 to cover the cost of our first production run or these amazing flavors may never see the light of day. So we're turning to our strongest supporters to ask for contributions. In exchange, we're offering our sauces, t-shirts, healthy cooking classes and my Amazon-bestselling cookbooks, along with many other amazing VIP perks," Iserloh explained.
All necessary licenses and permits are in place, bottling labels and designs have been established and a manufacturing facility has been selected. "All we need now are the contributions to ignite our first production run and in a few weeks we will be able to present a delicious new option to spice up kitchens and help reduce obesity in America," she added.
Iserloh is a well-regarded expert on nutrition and natural weight loss. Her nutritional philosophy offers a gateway to a healthier lifestyle that results in permanent weight loss without painful dieting and a tedious menu of tasteless foods. She is also the author of several books including the recent Amazon bestsellers: "Healthy Cheats" and "50 Shades of Kale".
About Jennifer Iserloh
Jennifer Iserloh is a professionally trained chef, certified health coach and healthy cooking expert. She is the author of the Amazon bestsellers "Healthy Cheats" (2012) and "50 Shades of Kale" (2012), as well as "The Active Calorie Diet" (2011), "Secrets of a Skinny Chef" (2010) and "The Yoga Body Diet" (2010), among others.
As the Skinny Chef, Iserloh has created thousands of delicious recipes, articles and blog posts for magazines, newspapers and websites including SELF, Prevention, InStyle, People, AOL, The Huffington Post, Epicurious and Livestrong. She has also appeared on "The Today Show" and "Living Well With Montel". To learn about Jennifer Iserloh, the Skinny Chef, please visit skinnychef.com