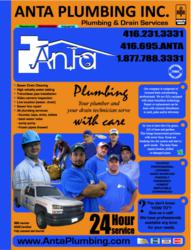 We don't just install a faucet, we give 100% customer service to every job, no matter how basic
Toronto, ON (PRWEB) February 11, 2013
Drain and plumbing experts AnTa Plumbing have been named Toronto's Best Drain Services, on Homestars.com for 2012. With an average overall rating of 9.8 out of 10 from over 160 reviews, in less than 10 years, Anta Plumbing has established themselves as the number one company for drain and plumbing needs.
"I needed a new kitchen drain installed after I had a new kitchen put in. I called a couple plumbers who kept cancelling on me, until finally I called AnTa plumbing," says Jamshaid from Markham's review on the website. "Jeff arrived exactly at the time of our appointment, and was very friendly, knowledgeable and helpful… The work was fantastic and he worked very quickly and neatly. I will definitely call Jeff again for any plumbing needs, and highly recommend him."
In addition to their ranking on Homestars, they also have an A+ with the Better Business Bureau.
"We don't just install a faucet, we give 100% customer service to every job, no matter how basic," explains AnTa Plumbing CEO Tanya Tchoudinova. "There's more than just the client and the company when we work with customers. We create an actual relationship, and we truly care about them."
Tanya Tchoudinova is a unique personality who will gladly explain in depth any drain and plumbing situation, making her one of the most knowledgeable females in the field.
Customer service is AnTa Plumbing's number one priority. The Toronto plumbers employed are all master plumbers, each with more than 10 years of experience. "They are professionals with good characters and a clean cut look. We build our relationships on trust, and do everything we can to establish that." Tchoudinova continues. "Our plumbers inform customers what they can do to prevent big drain and plumbing spending, when to have check-ups or repairs done in the future and they give them tips on maintenance."
Their ability to build relationships and trust awarded them the honor of best Drain Service for 2012. Each call is to a real person, and is paired with a dispatcher that goes out to the home immediately.
Additionally, AnTa Plumbing is an eco-friendly company with Trenchless Technology that saves customers' yards, and saves the soil.
"Our lawn/driveway didn't need to be dug up; which was a huge lifesaver," says Heather/Lori in Brampton in their latest review of the company.
Trenchless Technology is minimally invasive; all the work is done underground. Customers are shown the progress and results through cameras and computers. This technology is extremely valuable especially for commercial industries where excavating a site is not an option, and it allows for pipes to be fixed up to 300 feet underground. "We build for the future, not just today, and that elevates the quality of our service and experience for our clients," Tchoudinova states.
The success that AnTa Plumbing has procured starts at the base. "We're not just a company, we're like a small community," says Tchoudinova. "We give our employees better benefits and better pay than other places, and we throw events for them, and make them feel special. We're a family, and we know that when we're happy, our customers are happy too."
###
About AnTa Plumbing
Started in 2003, AnTa Plumbing is an eco-friendly drain and plumbing service that utilizes Trenchless Technology to save the soil, and minimize disruption to yards and pavements. It is one of the top drain and plumbing services serving Toronto, Etobicoke, Mississauga, Scarborough, Braunson, North York, Vaughan, Richmond Hill, Oakville and Burlington.
To learn more about AnTa Plumbing, please visit http://www.antaforyou.com.