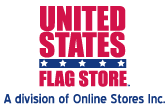 "Presidents' Day is a day to set aside work, spend time with family and reflect on how lucky we are to live in a country with a history of courageous leaders," said a Kevin Hickey, CEO
(PRWEB) February 19, 2013
United States Flag Store—the large online vendor of US flags, flagpoles and other patriotic accessories—called on Americans to begin preparations for Presidents' Day, falling on February 18th, 2013.
"Presidents' Day is a day to set aside work, spend time with family and reflect on how lucky we are to live in a country with a history of courageous leaders," said Kevin Hickey, CEO. "We began this business because we wanted to make it easy for people to express their patriotism. We have the best prices on the web, and during our national holidays, we believe putting a flag outside of your home or in your window is a nice and humbling reminder about the sacrifices people have made for this great country." United States Flag Store has sold flags and accessories to over 1,000,000 retail customers including Fortune 500 companies, veterans' organizations and all levels of government.
Every national holiday, United States Flag Store encourages citizens to purchase a United States of America flag. Flags can range from small US stick flags up to very large outdoor American flags, many of which are made in the USA. The company has sold over 6 million US stick flags in 2010 alone and processes an average of 1,000 orders each day. Through their discounted prices—stick flags starting at 16 cents and larger flags starting at $4.99—United States Flag Store has tried to make every national holiday more red, white and blue.
About United States Flag Store
United States Flag Store is one of the largest sellers of flags in the world. While they predominantly sell United States of America Flags, the United States Flag Store offers a wide variety of other flags: holiday and celebratory, state, international, garden and custom flags. The United States Flag Store is a division of Online Stores Inc., a certified Women-owned business, has been featured on the Inc. 5,000 list in 2009 and 2010, and serves as a member of the Better Business Bureau of Westmoreland County. For additional information please visit: http://www.united-states-flag.com.