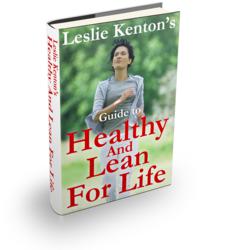 In my new book Healthy And Lean For Life which is available to everyone at no cost, readers will be surprised to learn some of the real causes of degenerative conditions and weight gain as well as natural methods to become free of them.
San Francisco, California (PRWEB) February 07, 2013
Informed people—among them some Hollywood stars and a growing number of the world's top endurance athletes—know and use information that readers will find in this new book. This is stuff that the rest of humanity has yet to discover. Leslie Kenton refers to this informed group as the health elitists. Their work requires an ongoing ability to access high levels of energy, creativity, freedom, stamina and good looks. Their goal is to live life at the peaks, no matter what their age.
"Living this kind of life is no longer the preserve of a privileged few," says Kenton. "What I've learned in 45 years of research and work in natural health, and from personally mentoring participants worldwide on Cura Romana (http://www.curaromana.com) is this: Regardless of age, men and women are able to change their current life experience into one of expanded wellbeing." How? By drawing on the work of visionary scientists and leading-edge clinicians, and taking guidance from pioneers in human health and development.
Some of the information in this brand new book stretches back to discoveries made more than half a century ago. Other revelations are so new that they can be mind-blowing. The book includes information which the media, nutritionists and most of the medical profession has yet to pick up on in any significant way.
"I'm quite sure that some of what you will read in Healthy and Lean for Life will shock you," says Kenton. "Why? Because, since the mid 1950s, most of what the public has been told about what is supposed to be a healthy diet is nothing more than conjecture." Not grounded in solid research, many widespread beliefs about nutrition are not based on genuine science but on unproven hypotheses. As a result, human life has suffered. Healthy And Lean For Life presents extensive medical and scientific references at the end of each chapter in support of the potentially life-changing information it contains. These are useful for any readers who would like to learn more.
The new book is now available at no cost to the first 2,500 people who wish to download it. Leslie Kenton invites readers to test for themselves the tools, technologies, information and inspiration found in this book and put some of them into practice. For, when body and psyche are supplied with what they require to function optimally, the body's innate powers for healing become activated. That is how profound transformation can take place.
"In the realm of life-long health and weight control, making informed changes to how one lives and eats can bring to an end frustration, self-accusation, shame and struggle," says Leslie Kenton.
"When it comes to age-related degenerative conditions many people are surprised to learn that the body may not need to rely on drugs to stay well. Nor do human beings need to experience a sense of helplessness as years pass. Growing older can mean growing wiser, healthier and more fulfilled with every year that passes."
Healthy And Lean For Life Is Available To Everyone At No Cost. You Can Download It By Clicking Here