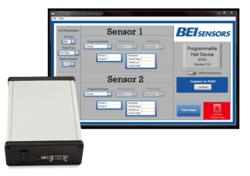 Goleta, CA (PRWEB) February 07, 2013
BEI Sensors introduces the Programmable Hall Device (PHD), an easy way to take control of customizing the output of BEI Hall effect sensors. This compact programming unit interfaces between a PC and BEI Hall effect sensors, and provides users with the ability to field program output functions that meet specific requirements. The PHD can be used for both analog and PWM outputs. Additional features include the ability to set high and low clipping points, program binary/switch output, and program multiple points along the assembly movement trajectory for even greater output precision.
The included PHD software makes programming simple with a user-friendly screen where output routines can be created, stored and recalled for later use. The PHD software offers a real-time graphical representation of the sensor output allowing verification of the sensor's functionality after programming. The system also gives users the ability to lock the sensor to prevent accidental reprogramming. With the PHD, BEI Hall effect position sensors can even be programmed directly in place using the actual assembly movement as the sensor input. This allows users to match the full range of the assembly precisely with the sensor output. BEI Sensors can also provide users adaptations to the PHD system to fit their exact application needs.
For more information including data sheet and user guide, visit http://www.beisensors.com/phd