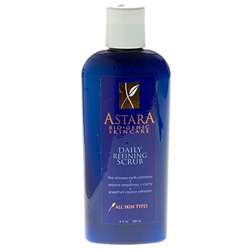 Raichel Goodyear, DrSkinSpa's Esthetician, said, "This Astara Daily Refining Scrub is like a triple threat contender for the skin: it gently soothes, deeply cleanses, and works to make the skin look and feel younger."
Anaheim, California (PRWEB) February 16, 2013
DrSkinSpa.com is a well-known skin care and web-based retailer that focuses on bringing scientifically proven, anti-aging discoveries to customers via premium skincare products. They have now added the Astara Daily Refining Scrub, all skin type solution, to their large collection of product offerings.
The Astara Daily Refining Scrub is a gentle yet deep-cleansing and exfoliating natural cleanser that invigorates the skin. The cleanser contains natural aloe, a botanical ingredient known for its soothing qualities on skin. The fact that the Astara Daily Refining Scrub is based upon aloe speaks to its gentleness and its ability to be used on any skin type, from dry to oily. The earth contained in Astara Scrub also has special earth containing diatoms that are found beneath the sea and which have special botanical and nutrient-rich properties for the deep cleansing necessary for skin health.
Also found within the Astara Daily Refining Scrub all skin type cleanser are various botanical and fruit extracts to soothe, cleanse and purify the skin on a daily basis without harm or irritation. When used on a consistent basis, the Astara Daily Refining Scrub will lessen the appearance of fine aging lines and work as an anti aging skin cleanser.
Raichel Goodyear, DrSkinSpa's Esthetician, said, "This Astara Daily Refining Scrub is like a triple threat contender for the skin: it gently soothes, deeply cleanses, and works to make the skin look and feel younger."
Dr. Farid Mostamand, Founder of DrSkinSpa.com noted that "We are proud to add Astara Daily Refining Scrub to our line of anti aging skin care products. This gentle cleanser works as an anti-aging exfoliant and is the solution for any skin type due to its aloe base of ingredients."
About DrSkinSpa.com:
The DrSkinSpa.com skin product company is doctor-owned and doctor-operated. The company researches and chooses only the most effective, clinically proven ingredients that are used in their products for sale. DrSkinSpa.com offers a fourteen-day money-back guarantee on every product on their web site. The site also offers a 120% price protection guarantee. Free samples and free esthetician consultations are also available. The company is owned by Crescent Health Center and is based in Anaheim, California.