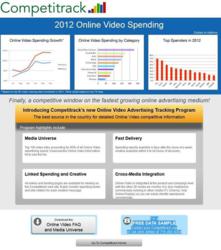 "With about 38 billion Online Videos viewed each month in the U.S. alone, Online Video has become a huge, targeted audience for advertisers."
(PRWEB) February 07, 2013
Fox, Procter & Gamble, and Verizon top the list of the nearly 2,500 companies that used Online Video advertising in 2012. Among the top 100 brands, 96 ran an Online Video ad during the year, according to Competitrack's new Online Video Ad Tracking service. About 20 brands spent more than $10 million on the medium.
While budgets for Online Video advertising remain small relative to other media, some leading brands allocated as much as 4% to 6% of their media outlays to Online Video in 2012,* according to Competitrack. On average, the top 100 brands allocated 1.5% of measured media spending to Online Video during the year.
Competitrack's new Online Video ad tracking service enables marketers and agencies to monitor spending and creative in this fast-growing field. The service debuts this month, providing comprehensive data including spending statistics, media usage information, and copies of competitor ads and landing pages. Competitrack is the largest supplier of advertising creative in North America. Competitrack has Online Video spending data dating back to July 2011 and creative dating back to January 2010.
Online Video advertising service features include:

Comprehensive Media Universe – Top 100 video sites accounting for 90% of all Online Video advertising spend.
Fast Delivery – Spending reports available 4 days after the close of a week; creative available within 6 to 24 hours of discovery.
Linked Spending and Creative – Ad videos and landing pages are available for viewing on Competitrack's web site. Easily monitor spending levels and site rotation for each creative message.
Cross-Media Integration – Online Video is integrated at the product and campaign level with the other 20 media that Competitrack monitors. It is also matched to commercials running in other media (TV, Cinema, Viral, Online Display) so users can easily identify repurposed commercials.
"With about 38 billion** Online Videos viewed each month in the U.S. alone, Online Video has become a huge, targeted audience for advertisers," said Competitrack CEO Bob Moss. "We've seen a significant leap in Online Video ad spending over the past 18 months."
Among Competitrack's findings: The most heavily advertised categories using Online Video in 2012 were TV Networks and Movie Studios, followed by Food & Beverage, Retail, and Auto. Tech, Telecom, and CPG companies also had a prominent presence, according to Competitrack data.
"Competitrack's new service is a natural extension of our comprehensive Ad Tracking service," Moss added. "By bundling spending data with our flagship ad tracking service and ad creative library, Competitrack becomes the leading resource for detailed competitive information on Online Video advertising."
Current subscribers can learn more about the service from their Competitrack representative; new users can contact John Jelilian at 718-482-4204.
Based on English-language media measured in Competitrack's tracking universe.
** Source: Comscore
About Competitrack
Competitrack is a full-service competitive advertising tracking firm, providing U.S. and international creative tracking, competitive spending analyses, multicultural ad tracking, co-op ad tracking, and ad verification services. To learn more, visit us at http://www.competitrack.com.