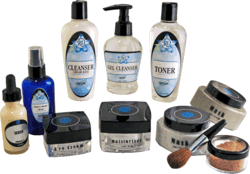 Customers of Renu Derma can experience healing benefits of organic beeswax.
Salisbury, NC (PRWEB) February 27, 2013
Renu Derma introduces a new addition to the Anti-Aging Collection of natural skincare. Customers can now experience the healing power of organic beeswax in Wrinkle Repair Moisturizer. This product provides a healthy finish in an organic skincare regimen.
Recipes for this skincare line, whose natural anti-aging products originated in the Republic of Georgia, are formulated using organic beeswax from Caucasian bees. Caucasian honey bees are named for their place of origin in the Caucasus regions, the area between the Black and Caspian Seas where Georgia is found. CEO Maia Smith faced an important decision regarding the ingredients of this newest moisturizer. Should she substitute a less costly beeswax for the Caucasian Beeswax?
It is well known that beeswax offers anti-inflammatory, antibacterial and antiviral benefits. Creams, lotions or soaps containing beeswax can greatly improve dry, rough skin. But does it matter where the bees that produce the beeswax live? Renu Derma Natural Cosmetics believes it does.
The secret of organic beeswax was documented as far back as the 15th century in the medical manuscripts of the great Georgian healer Zaza Panaskerteli-Tsitsishvili. He stated that bees with access to a wider range of trees and flowers in a less-polluted environment produce a purer and more enriched product. This also contributes to the great amount of vitamins and antioxidants found in their beeswax.
"We would like to preserve the uniqueness of our line and continue using cosmetic-grade beeswax from the Republic of Georgia", Maia shares and adds, "Our best selling Wrinkle Repair Eye Cream delivers incredible results and we will not risk changing our original recipes." Three of the eight products in Renu Derma`s anti-aging collection are formulated using this beeswax.
Another benefit of beeswax is the relatively low melting point range of 144 to 147 °F which allows it to soften if held in the hand. This means a beeswax-based cream penetrates into the skin cells and delivers all the benefits from the vitamins and antioxidants so necessary for anti-aging results. Compare that penetration to creams based on petroleum jelly or paraffin. These creams actually smother the skin by remaining on the surface and not allowing the skin to breath. Paraffin is widely used as a synthetic substitute for beeswax. Its' cheaper cost is attractive to mass producers of cosmetic products but with less expense comes a loss of beneficial properties.
A Renu Derma customer confides, "One of the benefits of Renu Derma creams is that you have peace of mind that your skin will digest natural ingredients and benefit you on the outside as much as the inside."
That's a fine testament to the mission of this boutique brand -- provide results- driven anti-aging products and education on a healthy, green lifestyle.
Renu Derma Natural Cosmetics provides organic, anti-aging products for people who desire natural, effective skincare. Maia Smith, Founder and CEO, is an Image and Beauty Expert who has appeared in women's magazines and newsletters. She has over twenty thousand page views and database of four thousand loyal members.
Contact Maia at http://www.renuderma.com
Tel: (866) 964 3932
Address: 103 S. Main St. Salisbury, NC 28144