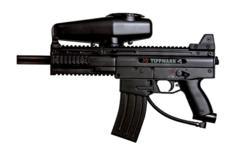 we have the best sniper paintball guns available
Morgan, UT (PRWEB) February 07, 2013
Sniper paintball guns from Tippmann and U.S. Army available at discounted prices.Action Center and Paintballguns.tv are offering these Paintball markers for a limited time.
To play the part players have to look the part, and have the right equipment. Sniper paintball guns allow a player to eliminate the opponents from the cover of bushes and tall grass without ever being seen.
Action Center can help the paintball player build the ultimate Tippmann sniper rifle for use in Paintball games . There is controversy in the paintball world when it comes to snipers. Many believe that there is no such thing because paintballs don't fly straight, and it is impractical to be a paintball sniper. Others believe that although all markers have the same range, the combination of a good setup and a good marksman can hit from long range.
Action Center offers good red dot scopes and barrels, which will help the paintball player reach out father with more accuracy.
Paintball sniper guns that Action Center has on special will have what a player needs, Be sure to have a stock for stability, It may, or may not, improve the performance as a sniper. It will make the marker more stable though, especially while standing up, and will help you when adjust the marker for a long shot .
Get a good paintball match to the barrel - All paintballs say they are .68 caliber, but all brands still aren't all exactly the same size. If the paintballs that are being shot do not match the barrel, they will either not shoot straight or they will burst in the barrel. A player can tell if the paintball matches the barrel by removing the barrel and dropping a paintball in it. If it just rolls out, the paintball is too small; if it gets stuck when blowing into the barrel, it is too big. It needs to not fall out but go through easily whenever blowing into the barrel. The best way to get a good bore to paintball match is to get a barrel kit that includes different barrel pieces to match variously size paintballs. When it comes to buying paintballs, players usually get what they pay for. The cheaper the paint, the more dimples and inconsistencies they tend to have. This, of course, hurts your accuracy.
for more information visit
http://www.actioncenterpaintball.com
http://www.paintballguns.tv