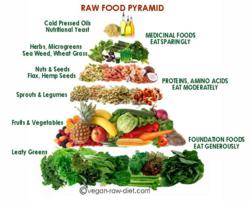 An educational and informative resource
(PRWEB) February 06, 2013
A lot of scientific studies and clinical data support the health benefits of raw food diet and yet for an average person, there are many questions and concerns on what foods are appropriate to eat and in what combination. A raw food pyramid designed by vegan-raw-diet.com addresses this need and provides a well balanced approach to planning and implementing a proper raw food regiment.
Heating food above 116 F is believed to destroy enzymes in food that assist in the digestion and absorption. Cooking is also thought to diminish the nutritional value and "life force" of food. Plant based raw food diet consists of uncooked and unprocessed, preferably organic fruits, vegetables, leafy greens, nuts, seeds, sprouted grains and beans and dried fruits. There are also some other foods that are included in this diet such as young coconut milk, seaweeds, raw carob and cacao powder, cold pressed oils and fresh or dried spices and seasonings. These raw foods can be eaten whole or combined to make the healthiest, most delicious meals.
Benefits of eating a balanced diet of raw foods include, increased energy and vibrancy, better digestion, healthy weight loss, improved skin appearance as well as eliminating the risk of heart disease, diabetes and cancer.
Vegan-raw-diet.com promotes healthful living with plant based and raw food diet choices. It provides, information, articles, recipes and more to conscious consumers who are concerned about what they put in their body. For more information visit http://www.vegan-raw-diet.com/rawfoodpyramid.html