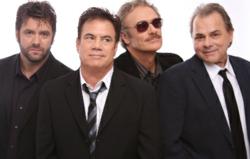 Pablo, represents an honest, real, down to earth individual; and Cruise, depicts his fun loving, easy going attitude towards life
Napa, CA (PRWEB) February 06, 2013
In 1975 Pablo Cruise released its first A&M album simply entitled Pablo Cruise. The album cover was shot in the tropical gardens of San Francisco's Golden Gate Park and it featured a huge gorilla standing front and center. The band, David Jenkins (guitars & vocals), Cory Lerios (keyboards & vocals), Steve Price (drums) & Bud Cockrell (bass & vocals) was nowhere in sight. At that point there was a bit of a mystique as to who Pablo Cruise really was. When asked, "who's Pablo," the band, which is a quartet, would answer, "he's the guy in the middle." When asked what Pablo Cruise meant, the well-rehearsed answer went something like this,"Pablo,represents an honest, real, down to earth individual; and Cruise, depicts his fun loving, easy going attitude towards life." In essence that's what Pablo Cruise's music is all about. Honest, real, down to earth vocals, accompanied by fun yet elegant, infectious grooves. To hear Pablo Cruise on record is one thing, but to experience the band live is an exhilarating event.
The band is back in the studio with Grammy Award winning producer Val Garay (Val produced Pablo's 2nd LP "Lifeline") re-recording two of their greatest hits featuring two new up and coming singers. Their re-arrangement of "Place In The Sun" will be featuring the incredible vocals of Red Red Records' KATRINA, and their latest version of "LOVE WILL FIND A WAY" will feature the intense vocals of TY TAYLOR of VINTAGE TROUBLE. There's no question...PABLO CRUISE is back and all they can say is "It's Good To Be Live!"
Tickets for Pablo Cruise plus The Edge are $40. They are on sale now and can be purchased through the theatre website at http://www.uptowntheatrenapa.com, at Ticketmaster (http://www.ticketmaster.com) or at the theatre box office (please call 707.259.0123 ext. 6 for hours). To find out more, please visit http://www.uptowntheatrenapa.com.
The Uptown Theatre Napa is downtown's ultimate destination for live concerts. Nestled in the famed West End district, this stunningly restored art deco masterpiece showcases only the finest acts, featuring music, comedy and more. An historic landmark, the Uptown offers a phenomenal, intimate live show experience, with excellent site lines and world class sound and lighting. As concert venues go, this is the place to be. Every seat is a great seat so buy concert tickets now!